Melania Trump's controversial jacket selling for big bucks on eBay
First lady Melania Trump's fashion choices never fail to make headlines, and replicates of her Zara jacket cryptically emblazoned with "I really don't care, do u?" are now up for grabs for almost $1,000 on eBay.
The controversial olive green anorak, which originally retailed for $39 and has since sold out, is currently receiving hefty bids on the online marketplace, The Washington Post reports. As of Friday morning, two "pre-owned" versions of the "authentic" jacket were bidding at $895 and $660.
Both sellers report that they bought the jacket in Zara stores a few years ago.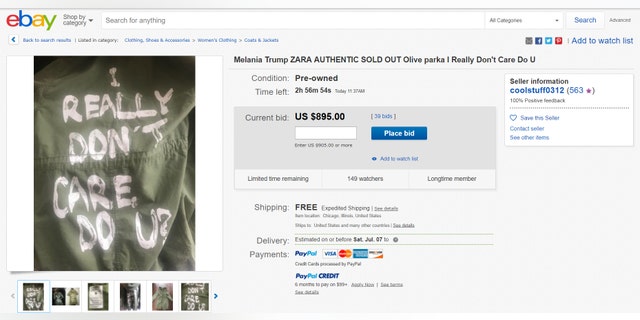 CLOTHING COMPANY FACES BACKLASH AFTER PULLING 'BOYS WILL BE BOYS' SHIRT
On June 21, Trump sparked outcry as she sported the "I really don't care, do u?" jacket en route to visiting detained migrant children at the Texas border amid a mounting immigration crisis.
In response to the incident in the days since, fashion brand Wildfang sold out of a charitable 'I really care' jacket and teen star Jenna Ortega wore a bespoke military jacket reading "I do care and u should too" to the Radio Disney Music Awards on June 22.
KIM KARDASHIAN DEFENDS BRAIDS, CLAIMS SHE'S 'NOT TONE DEAF'
Meanwhile, FLOTUS' office denies that the controversial coat had any political meaning in the first place.
"It's a jacket. There was no hidden message. After today's important visit to Texas, I hope the media isn't going to choose to focus on her wardrobe. (Much like her high heels last year)," Stephanie Grisham, White House Director of Communications for FLOTUS, told Fox News.
FOLLOW US ON FACEBOOK FOR MORE FOX LIFESTYLE NEWS
Returning to the border on June 28 to meet with members of U.S. Customs and Border Protection, Trump opted for a timeless – and decidedly apolitical – ensemble. The 48-year-old former model wore a simple black knit top with three-quarter length sleeves and wide-legged white slacks, paired black flats and oversized sunglasses.