Melania Trump slammed for wearing sunglasses at night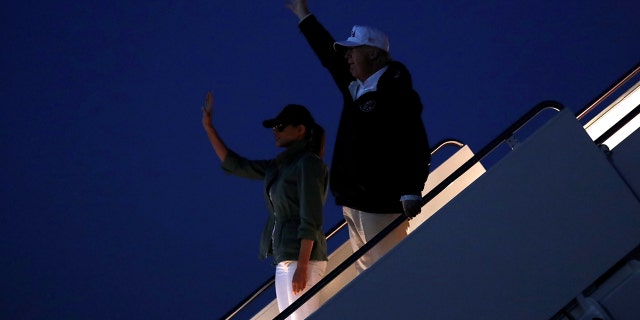 NEWYou can now listen to Fox News articles!
Melania Trump was criticized by Twitter this week for another one of her fashion choices. This time the social media storm was about her eyewear.
The First Lady was returning from a trip with her husband, President Donald Trump, after they had made a visit to Puerto Rico and then Las Vegas the following day.
DONALD TRUMP AND MELANIA'S TEXAS HAT CHOICES CAUSE CONTROVERSY
The Trumps returned to the White House late Wednesday night. Melania deplaned, showing off a black lace skirt, black sweater – and sunglasses.
The eyewear quickly became the focal point for Twitter users who pointed out that the sun was not out.
FLOTUS' sunglasses also caught flack while she was in Puerto Rico from people saying that the shades made her seem unapproachable and disinterested.
FOLLOW US ON FACEBOOK FOR MORE FOX LIFESTYLE NEWS
Melania is no stranger to fashion controversy. She was previously shamed over her "storm stilettos" – her choice of sky-high heel that she wore while visiting Texas after Hurricane Harvey. She was also ridiculed for her neon pink dress that she wore during her United Nations speech about bullying.