Melania Trump criticized for wearing white pith helmet in Kenya during safari
First lady Melania Trump has been criticized for wearing a white pith helmet while on a safari in Kenya on Friday.
Trump spent this week visiting four countries in Africa in five days as her first solo trip as the first lady. The first lady visited Ghana, Malawi and Kenya before landing in Egypt, where she will wrap up her trip.
MELANIA TRUMP FEEDS BABY ELEPHANTS, DANCES WITH CHILDREN ON AFRICA TRIP
On Friday, she visited the Nairobi National Park in Nairobi, Kenya, where she was spotted wearing a white blouse, brown riding pants, boots and the white pith helmet – which is associated with colonial rule across Africa, The Guardian reported. The first lady was captured taking pictures of animals on her iPhone and peering through binoculars.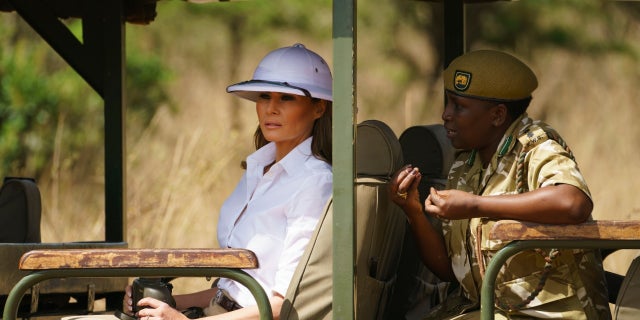 The helmets were worn by European explorers in Africa in the 19th century before it became "a symbol of status – and oppression."
The fashion choice was slammed by social media users.
"That pith helmet you have carried was used by colonialists during the dark days. Doesn't sit well with us Africans. Who advised you?" a social media user wrote.
"Melania Trump wearing pith helmet on her trip to 'Africa' is more than a silly satirical choice. It's a reflection of her outdated understanding of Africa. (Also, she was photographed in safari attire multiple times on this trip)," a person tweeted.
"Melania Trump went on a safari in Kenya wearing a pith helmet – a symbol of European colonial rule across Africa," another person tweeted.
The president tweeted about his wife's visit this week saying she was doing a great job.
MELANIA TRUMP'S 'I REALLY DON'T CARE' JACKET CAUSES STIR ON BORDER VISIT
"Our country's great First Lady, Melania, is doing really well in Africa. The people love her, and she loves them! It's a beautiful thing to see," he tweeted.
This is not the first time Trump has come under fire for her outfit. In June, the first lady was photographed wearing a jacket emblazoned with the words "I really don't care, do u?" on its back. At the time of wearing the controversial jacket, Trump was boarding a plane to visit a Texas facility housing migrant children separated from their parents.
Fox News' Samuel Chamberlain contributed to this report.