Iowa school district apologizes to student in cancer recovery for dress code punishment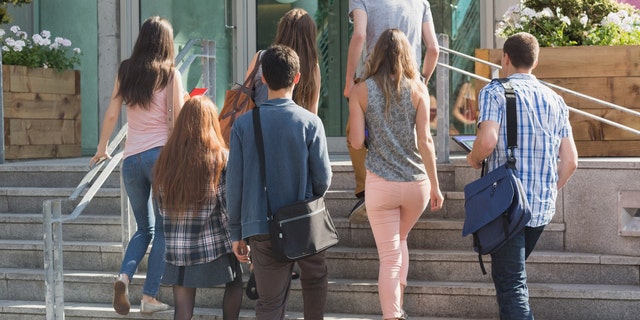 A school district in southeast Iowa has apologized after disciplining a student for dress-code violations when she covered her head after losing her hair during cancer treatments.
Chloe Terpenning, 15, was disciplined last week at West Burlington High School for not following the school's dress code regarding head wear, the Hawk Eye reported . Chloe is currently in remission, after completing five rounds of chemotherapy and 15 days of radiation in July for Hodgkin's lymphoma.
TEEN REDUCED TO TEARS OVER CHARTER SCHOOL'S DRESS CODE
Chloe received permission in the beginning of the school year to cover her head until she felt comfortable. Chloe had been bullied about her hair loss at Burlington High School and had recently open-enrolled at West Burlington High School.
Despite receiving permission, Chloe was sent home last month for covering her head with her hood. She then spent three days in a school office last week for wearing a beanie made for cancer patients.
Superintendent David Schmitt said West Burlington Independent School District has apologized to Chloe for its insensitive approach to dealing with her hair loss.
"It was an error of judgment on our part and we regret making this mistake," Schmitt told the newspaper. "The school district has taken action to make sure this doesn't happen again."
District officials also emailed Chloe an apology.
FOLLOW US ON FACEBOOK FOR MORE FOX LIFESTYLE NEWS
Chloe has also started a petition to end the head wear policy for current and future cancer patients. She had collected over 5,500 signatures as of Tuesday.
Chloe and her mother will meet with Schmitt on Friday to discuss the school's dress code. Chloe said she needs "a sincere apology ... not an email" from the school's principal and associate principal, and the superintendent.
"I'm not moving on. I'm fighting for future patients," she said.