Historic tamale building in East L.A. wrapped in preservation dispute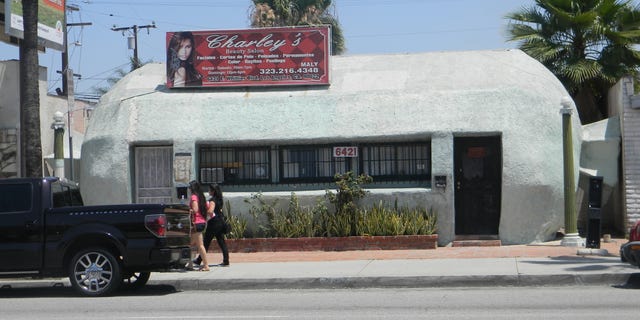 Los Angeles – The squat building sits on Whittier Boulevard, an emblematic street in Los Angeles where several key events of the Chicano movement took place during the 1960s and 1970s.
It stands out not because of its beauty or majesty, but because it's shaped like a giant green tamale.
But now, this peculiar-looking structure is at the center of a dispute between its owners, who are desperate to sell it, and community leaders who seek its preservation.
While conservancy advocates highlight the historic significance of the 85-year-old structure, the company that presently manages the building argues that its conservation would diminish its real estate value.
The dispute could come to an end this month when the Los Angeles Board of Supervisors is expected to pass new preservation regulations that for the first time would allow individuals to nominate as landmarks certain properties in unincorporated areas of the county, like East L.A.
The new ordinance, which is being prepared by county counsels after winning initial approval in January, would also establish a county Register of Landmarks and Historic Districts.
"The tamale building in East Los Angeles is an example of a type of architecture that created very unique structures in different places of the county to help promote businesses," says county supervisor Hilda Solis, who has supported the campaign to save the building.
Solis adds that "we need a mechanism that will allow for the historic preservation of such sites so that the community can have a say on whether they should be preserved."
Conservation activists believe that "the tamale," as it is commonly called, qualifies as a historical landmark.
"It's one of the rare survivors of the roadside vernacular architectures," says Adrian Scott Fine, director of Advocacy at Los Angeles Conservancy, a historic preservation organization.
"Los Angeles had many buildings like that, widespread throughout the city, but very few survived," he adds.
"The Tamale," built in 1929, is one of the last standing examples of the "programmatic" architectural style popularized in the 1920s and 30s, influenced by the rise of filmmaking in Hollywood and widespread automobile use.
Because these eye-catching buildings were often shaped in the business' namesake or the products sold within, in this case it was designed for a small eatery with a menu that included – obviously – tamales and hamburgers.
Now the pastel green-colored building houses a beauty salon on one side and a dentist's office on the other.
The building is on Whittier Boulevard, where in August 29, 1970, the Chicano Moratorium, a social justice group opposed to the Vietnam War, organized a march that traversed the thoroughfare. About 30,000 demonstrators came. The rally turned violent as police used tear gas to disperse the crowd. Four were killed, including journalist Ruben Salazar.
Los Angeles architecture enthusiast Richard Schave says he is "eagerly anticipating" the adoption of the new ordinance so he can write a report on how the tamale building is viewed as historic by many people in the community.
Schave believes that the tamale building has a bigger significance because it stands on a street with so much history as Whittier Boulevard.
"Preserving them both is important. Whittier [Boulevard] is significant as a commercial street since its inception is the skeleton on which the Chicano movement grew up in," said Schave, co-founder along with his wife Kim Cooper of the Esotouric tour company, which runs the Eastside Babylon bus tour in East L.A.
"The Tamale is really important because it is this great example of the county trying to make preservation a bigger policy," he adds.
But the property owners are fighting the historic preservation status — or are at least trying to delay it. They have been trying to sell the building since 2013, hoping that a buyer comes along before it is declared a landmark.
"At the end of the day, we won't be benefiting from such a measure," declares Angel Castillo, realtor in charge of the account at Century 21Realty Masters.
Castillo said he fears that if it is considered a landmark it would mean that a lot of money would have to be invested in its renovation and that could scare possible buyers.
"It would need a lot of work," he added. "I have a lot of documentation that says that in order to do any kind of renovation you have to go through a long process."
Because of the complicated preservation regulations in Los Angeles, "you can't change it, you can't do any remodeling unless they approve it," said Castillo.
Even local businesses are pushing for the historic preservation status for the building – claiming it draws visitors, and likely customers, to the area that would not have been there otherwise.
"Many people come to here to look at it and they come to us and ask a lot of questions about it, like when it was built and why and so forth," said Jose Recalde, owner of Vincent Fines Upholstery, which is across the street from the tamale building.
"Undoubtedly, that brings us more business," he said.
Recalde, who moved his business into the area five years ago, said the building deserves to be protected by the new ordinance.
"It is a building that has history, it is something classic," he said, "it is a jewel that is left and there are very few here in Los Angeles."