Girl's floral Duck Tape prom dress may earn her $10K
A California high school senior is in the running to win $10,000 for a white floral prom dress she made entirely out of Duck Tape.
Anne Pacheco Timmerman of San Carlos, Calif., created the bright off-the-shoulder mermaid gown out of 15 rolls of Duck Tape brand duct tape as part of the tape's 18th annual Stuck at Prom scholarship contest.
NEW JERSEY TEEN COULD WIN $10K FOR PATRIOTIC PROM TUXEDO MADE OUT OF DUCT TAPE
Each year, hundreds of high school students enter the national competition with their own unique tape designs for a chance at the one of the two $10,000 prizes.
The home-schooled 18-year-old is in the final 10 among five girls and five boys.
Timmerman, who hopes to study graphic design at San Diego State University, said she discovered the prom dress contest while looking for other college scholarships.
The inspiration behind her floral design comes from her father, a dental laboratory technologist, with whom she designed hundreds of candy fondant flowers for a wedding cake years ago, she told the San Diego Tribune.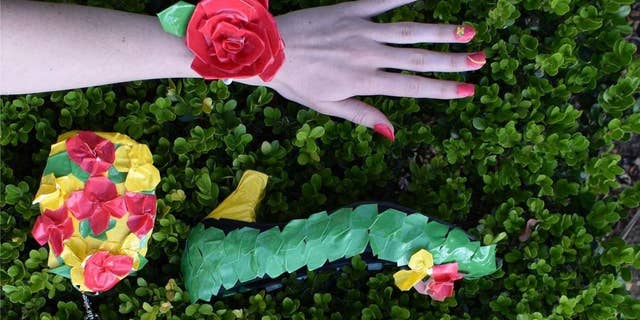 The complete gown with thigh-high slit and intricate flower detail took about 120 hours and cost around $60 for materials.
"The creation of this dress has occupied my every weekend since January and the grand total of time spent was about 120 hours," she said to Fox News.
The teen accessorized her custom look with a flowered cape, crown, clutch and corsage – all made out of Duck Tape. Her high heels were also accented with Duck Tape leaves to match the design on her dress.
"My friends were very impressed," she said of wearing it out to prom, the Tribune reported. "I received several comments such as 'Wow! That's made out of Duck tape?'"
FOLLOW US ON FACEBOOK FOR MORE FOX LIFESTYLE NEWS
Timmerman said she hopes to win the prize, but can't take complete credit if she does.
"If I win, it is not simply because of the dress I designed, but because of the great support of people from all over the nation," she told Fox News.
The winners, one for best gown and one for best tuxedo, will be announced on July 9 on the Stuck at Prom website. Voting closes midnight on June 25.