Fitness blogger reveals truth behind staged social media photos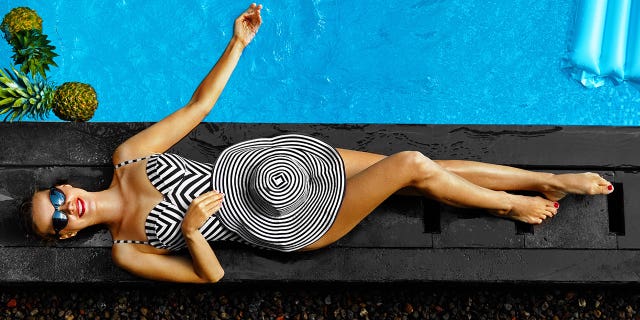 NEWYou can now listen to Fox News articles!
Ever scroll through Instagram and notice it's filled with an endless stream of perfect-looking tanned and toned bodies? The reality is no one looks as perfect as they do on social media, and one woman has made it her mission to reveal the truth behind those staged photos.
Fitness blogger Imre Çeçen posted side-by-side photos that show the stark difference in the way her legs look sitting poolside when she's posing versus natural.
"We've just lost touch with reality because on the internet all we see are those freaking hot dog legs," Çeçen posted.
The blogger wrote about how everyone's legs look bigger when they sit down and that it's totally normal. "Your legs are being pushed against a surface, they are supposed to expand! This doesn't mean you're fat."
ALY RAISMAN SHARES INSPIRING MESSAGE ABOUT BODY CONFIDENCE ON INSTAGRAM
She goes on to admit that while she's guilty of posting those staged photos, they aren't realistic. Çeçen explained the effort it took to look like the photo on the left, where her legs appear toned and thin, compared with the more natural photo on the right, which more women probably relate to.
"Creating that thighgap & skinny legs feel was real hard😵 I had to arch my back like crazy, hold my legs up (serious ab work was involved) and had to sit on the edge of the pool which caused me to almost fall," the blogger wrote.
Çeçen assured her followers that she doesn't think there's anything wrong with the way her legs look in the picture on the right, but her goal was to show people the dramatic difference between social media and reality.
This isn't the first time the fitness blogger has used social media to get real about this topic. In one of her previous posts, she shows two photos of herself with different lighting to prove how it affects the way her body looks.
FOLLOW US ON FACEBOOK FOR MORE FOX LIFESTYLE NEWS
"The reason why it seems like all 'insta models' do look 'amazing' all the time is just cause they only post pictures with lighting that they like," she wrote.