Feeling Silly? April Fools Isn't The Only Day On The Calendar For Going Nutty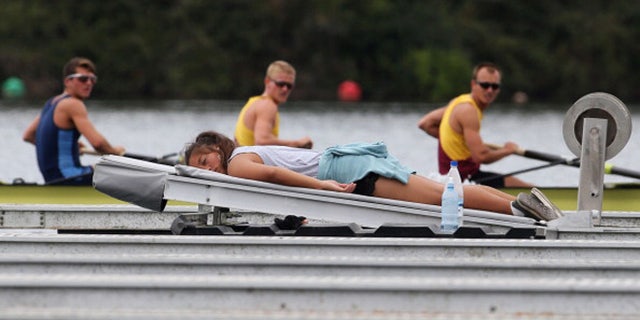 NEWYou can now listen to Fox News articles!
Did you know that today is National Prevarication Day? Traditionally on April 1, people from around the world gather in Agloe, New York, to tell tales about fish that they nearly caught and checks that are in the hands of the United States Postal Service and emails that mysteriously wound up in the spam folder.
Okay, not really, but there are holidays for just about everything under the sun. In celebration of April Fools' Day, Fox News Latino is proud to present 10 of the silliest celebrations that have made the calendar.
1. Blah Blah Blah Day
Tired of being hectored, wheedled or just plain nagged? April 17 is your day. Whether the cajoler is a loved one, a friend or your boss, here's you're chance to turn to him or her and say, "Happy Blah Blah Blah Day to you."
2. Root Canal Appreciation Day
For those who have had a root canal, probably the last feeling you have about it is appreciation. This annual holiday was the brainchild of dentist Chris Kammer and was first proclaimed on May 11, 2005, by Wisconsin Governor Jim Doyle and the mayor of Madison, Dave Cieslewicz. The idea is that that we should be grateful for all the teeth this dreaded procedure has saved. So don't look a gift holiday in the you-know-where.
3. Bad Poetry Day
If you have a lot of bad verse in your brain, swirling around, Aug. 18 is the day to write it down. And if writing bad poetry gives you no pride, you can still speak like Fezzik in "The Princess Bride."
4. Be Late For Something Day
Schedules and deadlines have a way of taking over our daily life, but Sept. 5 is a procrastinator's dream. Feel free to show up late for everything on this day celebrating the beauty of tardiness. And if you can't be bothered to celebrate it until Sept. 6, who can blame you?
5. Talk Like A Pirate Day
Always dreamed of the pirate life, matey? Well, on Sept. 19 you have an excuse to live the dream. This internationally celebrated holiday began as the pet project of "the pirate guys," got a major boost from syndicated columnist Dave Barry, who wrote about it in the Miami Herald and it has grown in popularity since. On this day the rules are simple: Talk like a pirate. And never ye worry ye landlubbers! There are plenty of sites dedicated to teaching the pirate vernacular.
6. Howl At The Moon Day
To kick off Halloween season, train yourself to release your inner wolf on Oct. 26 and bay at the moon. This unofficial holiday is just the ticket for all you coy dogs out there.
7. Create A Great Funeral Day
One of the last holidays, in both the sense of most recently created and the one you may be celebrating closest to the afterlife, "Create a Great Funeral Day" occurs on Oct. 30 and is intended to spur people to make their final arrangements. Stephanie Allen West registered the holiday with Chase's Calendar of Events after she experienced the difficulties of dealing with a relative's funeral plans and wrote a workbook on how to prepare for your own. While this holiday may seem like kind of a bummer, you can think of it as something like planning a going-away party.
8. Ditch Your New Year's Resolution Day
Finding it hard to stick to that New Year's diet? Have no fear, Jan. 17 is near. Think of the day as the national holiday for quitters, and if that thought doesn't appeal, there is always next year.
9. Wave All Your Fingers At Your Neighbor Day
Maybe they forget how to be friendly. Or maybe they occasionally forget how to wave. Either way, on Feb. 7, people are encouraged to show a little friendliness and pass it on by waving all your fingers – yes all of them – at your neighbor. Most descriptions advise taking the "neighbor" part loosely and waving to those around you throughout the day. Don't worry, you can go back to ignoring them tomorrow.
10. Nap Day
This unofficial national holiday is celebrated annually on March 10 following the return of daylight savings time. Started by Professor William Anthony at Boston University, it's designed to give people the opportunity to catch up on some sleep and highlights the physical and psychological benefits of napping. So for all you workaholics out there: What? You've never heard of a "power nap"?
Follow us on twitter.com/foxnewslatino
Like us at facebook.com/foxnewslatino