Couple gets married in the middle of a marathon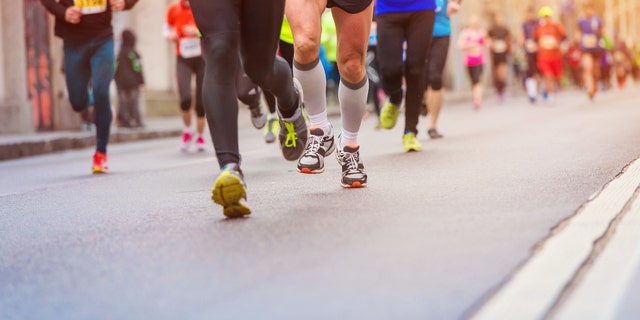 As any athlete knows, just finishing a marathon is an impressive enough feat on its own. But one couple made the achievement all the more remarkable when they exchanged vows during their big race.
Anthony Johnson and James Makokis wed while running the Vancouver Marathon on May 6, Runner's World reported. Around mile 20, the pair traded their water belts for tuxedo jackets, and bounced their knees up and down to keep their legs warm for the remaining 10K of the race.
"We kind of started seeing marathon training as a metaphor for a relationship in terms of you have to put in the work and you have to have a good attitude," Johnson told Runner's World. "So we thought it would be a great way to celebrate our union by getting married."
HOW RUNNING SLOWLY HELPS YOU GET FASTER
The setting was also appropriate, as the couple view running as a time to be alone with one another and talk without the distraction of their technology.
"It's hard to be angry when you're running, and it's hard to use extra words that aren't productive when you're trying to breathe and focus on your pace," Johnson told the magazine.
DITCH THESE RUNNING EXCUSES TO JUMP-START YOUR WEIGHT LOSS
The Cut reported that the ceremony involved a teepee and healing medicines, and was inspired by Johnson and Makovis' Native cultures. Johnson is from the Navajo Nation in Arizona, and Makokis is Cree from Saddle Lake in Canada.
As word of their nuptials caught fire on social media, an audience of family and friends expanded to include spectators and tour groups wanting to watch the ceremony.
FOLLOW US ON FACEBOOK FOR MORE FOX LIFESTYLE NEWS
They crossed the finish line as a married couple, with the announcer broadcasting their new union.
"It was a really magical way to end the race," Johnson told Runner's World.