California twins born in different years -- one on New Year's Eve, the other on New Year's Day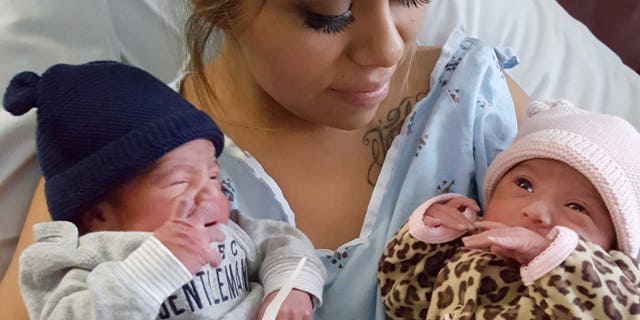 SAN DIEGO – San Diego twins ushered in 2016 by making headlines.
The twins were born just minutes apart, but one has a birthday in 2015 and one in 2016.
Jaelyn Valenica was born New Year's Eve at 11:59 p.m. Her twin brother, Luis Valencia Jr., arrived at 12:01 a.m. on New Year's Day.
KGTV-TV reports (http://tinyurl.com/jaqbtas) that the babies were due at the end of January, but doctors at San Diego Kaiser Permanente Zion Medical Center called the mother in because one was in a breech position.
The father, Luis Valencia, called it a New Year's blessing to have two healthy children. The twins weighed about 5 lbs.
"It's pretty much the best of both worlds," Luis said to the local Fox affiliate. "So that means two birthday parties back-to-back!"
The mother, Maribel, works as a cashier at San Diego International Airport, and Luis is a Navy diesel mechanic, according to KGTV-TV.
The Valencias have a 3-year-old daughter named Isabella.
The Associated Press contributed to this report.
Like us on Facebook