Birth rates among Latinas at an all-time low, as their prosperity continues to grow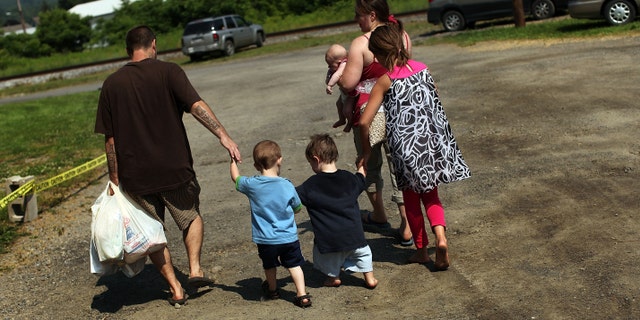 New York – Birth rates among Latinas are at an all-time low, piquing the attention of demographers and sociologists.
"The intensity of the drop, particularly of Hispanics and immigrants, is very striking," said Gretchen Livingston, senior researcher from Pew Research Center.
What is so intriguing, they say, is that the numbers go beyond the economy's dip and seem to correlate – at least in part – to a growing prosperity among Latinos.
"There is a stereotype that Latinos have these extraordinary large families and that Latinas have many more children than other groups," said Jody Aguis Vallejo, a sociology professor at the University of Southern California. "This is a false assumption" she added.
In her research about the Mexican-American middle class, Aguis Vallejo, found that Hispanic women are finally joining the trend of delaying having children in order to graduate college or focus on their careers.
The birth rate decrease was especially pronounced when construction jobs dried up during the real estate market bust and subsequent recession, but Hispanic births have been decreasing for decades. When there was an uptick in the general fertility rate for women in the U.S. age 15 to 34 for the first time since the economic downturn in 2007, Hispanic women were not part of the group — actually, according to data released by the Centers for Disease Control in September, their general fertility rate dropped an additional percentage.
The declining trajectory started in the 90s, the CDC noted.
There are a few reasons besides the recession. First, researchers say, there has been a decline in the number of immigrants, especially from Mexico, and first-generation immigrants tend to have children in greater numbers than longer-term residents in this country.
"The difference comes from the foreign-born population, that's what shows a fairly sharp decline," explained David Armstrong, a Census Bureau statistician.
Not only are there fewer Mexican immigrants entering the country and many more leaving it, as Pew indicated earlier this week in a study, but immigrants who have arrived are becoming Americanized.
"As you have a larger Hispanic population that becomes acculturated into culture, rates will drop and become more like rates of natives," Armstrong said.
A second reason for the birth rate decline in the Hispanic community is that Latinas have been enrolling in college in higher numbers, with a subsequent increase in affluence that typically translates into lower birth rates.
"The education levels [of Latinas] have gone up notably," said Professor Frank Bean, a director for the Center for Research on Immigration, Population and Public Policy University of California, Irvine. "And earning levels have gone up notably, more so than in the case of males," he added.
Among other things, all these trend changes are having an impact on the predictions of when this country will have a majority population of minorities -- but not a big one.
"Pretty much it is set because of the youthfulness of the Latino population and the aging of the white population," said Roger Saenz, from the University of Texas in San Antonio, alluding to the 15-year age gap between Latinos and whites — 27 for Latinos, compared to 42 of whites.
"It's not likely that the fertility of whites will go up," he said, "particularly as you have baby boomers reaching retirement age."