Botched Spanish Fresco Becomes International Sensation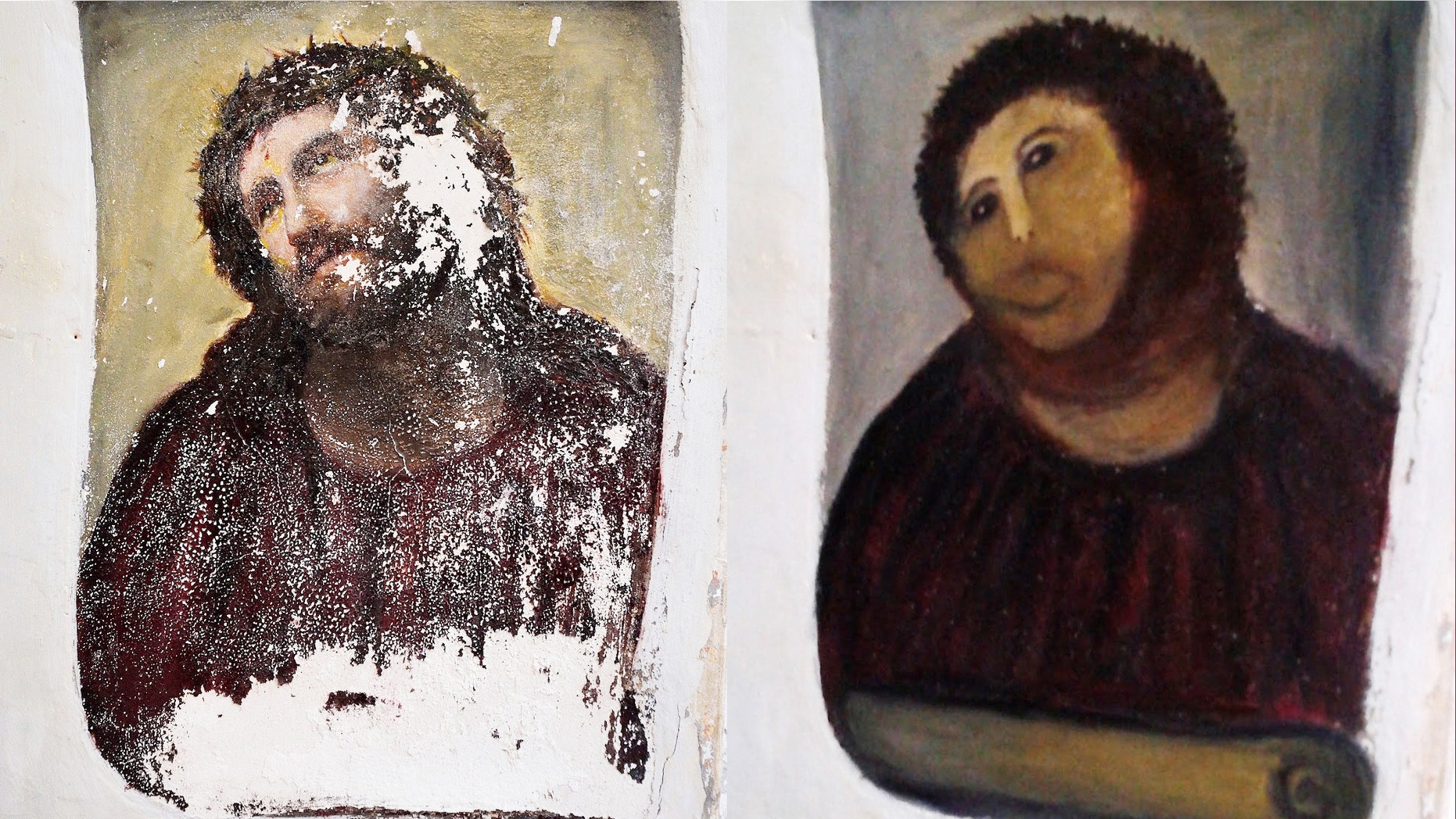 Madrid – It turned a small church in Spain into an international laughing stock: a badly restored fresco of Jesus Christ that ended up looking like strange-looking monkey.
But the awful work of art also did something else: it turned the Misericordia church into a tourist attraction, with hundreds of tourists flocking to Boria, a small town in Spain, to see an artwork gone wrong. And the church has even tried to cash in on its newfound infamy – it charges visitors 1-Euro to see the botched painting. The distorted image then began appearing on T-shirts and cellphone covers, coffee mugs and wine labels. It became an icon — used to sell products around the world.
Now Celia Giménez, the woman who tried to restore the damaged 20th-century painting is demanding that she receive a cut of the proceeds. Giménez's lawyers have begun investigating whether all the notoriety may be turned to profit, albeit with an aim to help charity.
The church has made over $2,500 in cover charges from curious tourists wanting to see the fresco, which became so popular it was roped off and attended by security guard.
Giménez's lawyers say she has no interest in a cut of what the foundation is charging people to see the fresco. But they are investigating possible copyright infringements of what she created. If she has rights, said lawyer Antonio Val Carreras Rivera, Giménez could pursue payments from those using the image to sell products, although whatever she earns would go to charity.
She's most interested in funding groups that help people with congenital muscular dystrophy, because she has a son with the disorder.
Ecce Homo (Behold the Man), completed in 1930, made headlines last month after Giménez, a parishioner of the church, decided to restore it to her former glory. The 80-year-old parishioner instead turned the fresco of Christ wearing a crown of thorns into a disfigured, overweight she-man with a double chin and no beard.
The Sancti Spiritus foundation is stuck in its own legal bind about what to do with the fresco. Should it restore the painting to its original state? Or leave Giménez's image on the church wall? Or try, as experts say is possible, to separate the two?
Giménez herself is thankful for the many messages of support she's received from around the world, her lawyers said in a statement. And she "regrets and deplores that commercial brands are financially exploiting a situation that began in total good faith, and which should be restricted to the human level beyond business or commercial interests," the statement said.
The nonprofit Sancti Spiritus foundation plans to seek a second opinion from art experts on what to do about the painting, before getting the view of lawyers, said foundation president Francisco Miguel Arilla, who is also the mayor of Borja, population about 5,000.
"Everyone wants to solve this, but no one knows the solution," Arilla said.
While Giménez could end up with ownership of what she painted on top of the fresco, the foundation isn't sure who owns the original. It's either the foundation or the 16 grandchildren of the painter, Elias Garcia Martínez. And Martínez's heirs live all across Spain, Arilla said. "This seems like it's going to be a long process," he said.
Meanwhile, Borja is trying to cope with its newfound fame. While known for its wine, this is the first time it's ever been a big tourism draw.
The influx of visitors hasn't shown any sign of letting up since news of the fresco rocketed around the world, Arilla said. About 1,000 people paid admission last weekend, and the number of visitors has averaged 100 daily this week. The charge was put in place to cover the cost of additional workers needed at the sanctuary to manage the crowds.
"I thought this would slow down by now, but we still have a steady flow of people," Arilla said.
The Associated Press contributed to this report.
Follow us on twitter.com/foxnewslatino
Like us at facebook.com/foxnewslatino