Blogger with Crohn's disease takes sexy pictures of ileostomy bag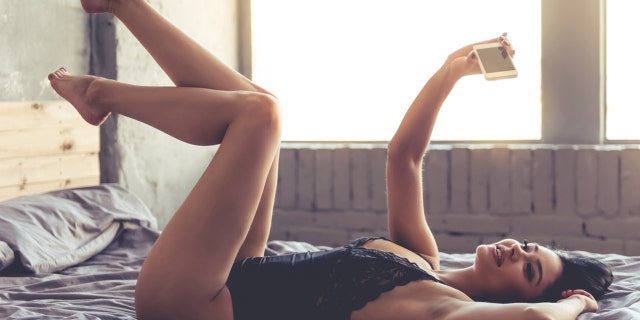 Blogger Krystal Miller was diagnosed with Crohn's disease at 15 when she started having severe stomach pains.
After eight years of doctor's trying to get her disease under control, as she says in her blog, they suggested surgery as the best solution for Miller's illness.
PREGNANT FOX NEWS ANCHOR SLAMS PEOPLE OFFENDED BY HER MATERNITY CLOTHES
For the surgery, the doctor's had to create an opening in the small intestine and bring it through an opening in the abdomen, creating a stoma and a lifelong need for an ileostomy bag to catch waste that would have otherwise gone out through the anus.
That is how Miller became a self-described "Bag Lady."
Miller, then 22-years-old, felt fearful about the isolation having an ileostomy bag would cause. A fear she chronicles on her Facebook page. However, eventually, Miller started to her her life-altering operation in a different light.
"Having my surgery was the best thing that has ever happened to me," Miller writes. "I am definitely not saying it's been smooth sailing the whole time, but there has been a lot more good than bad."
Since then, Miller has decided to make it her mission to spread awareness and remove the stigma from having an ileostomy bag – and she is doing so through her unfiltered blog and posting pictures on Facebook, specifically sexy pictures.
Miller uses photos of herself in underwear or lingerie with her bag prominently positioned to remove the feeling of disgust that she once felt about her condition.
FOLLOW US ON FACEBOOK FOR MORE FOX LIFESTYLE NEWS
"I've looked at my body and hated it. I've despised the fact that I've had to have the surgery. I've felt disgust at my scars and bag and feared no one could find me desirable," she writes on Facebook.
The Bag Lady, which becomes Bag Lady Mama after her pregnancy, takes her readers through her journey to acceptance.
"I've also looked at my bag and my scars and my battered body and felt love and appreciation. I've appreciated how far I've come and how I'm not close to dying anymore," she continues.
The Bag Lady feels herself a speaker box for the fears of a community – pointing out that life "doesn't end with a bag, but only begins."
"I mean, come on," she concludes in her post. "Confidence is THE sexiest thing on someone."