Banana Republic customers threaten to boycott after discounted orders are canceled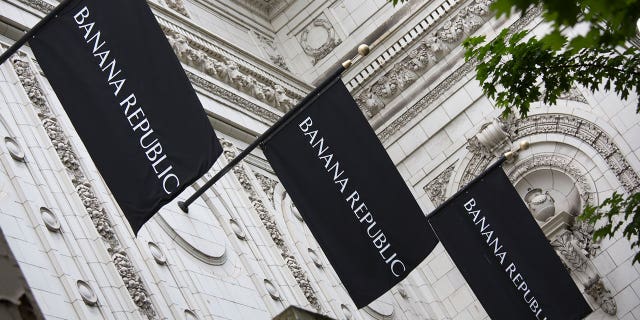 NEWYou can now listen to Fox News articles!
More than a few Banana Republic shoppers are angry with the retailer after the store failed to honor a $50-off promotion on Tuesday morning.
According to a shopper who spoke with Fox News, the coupon site Dan's Deals posted a Banana Republic promotional code promising "$50 off $50 at Banana Republic" by using the code BRSHOP at checkout. It effectively allowed shoppers to order anything — even items that only amounted to $50.01 — for $50 off.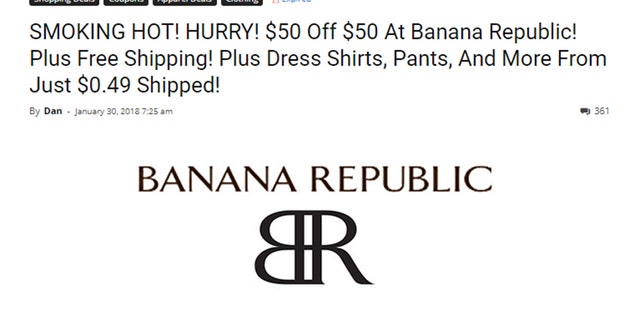 ANTHROPOLOGIE ACCIDENTALLY LISTS $8,000 COUCH FOR FREE, CANCELS ALL ORDERS
Commenters on Dan's Deals soon confirmed the news, with one alleging that he/she ordered a pair of $58 velvet slippers for just $7 after pairing the promo code with her GapCard discount. Another said he/she got shirts, a belt and a merino wool sweater totally free — and shipped free, too — thanks to the deal.
By 9:45 a.m. on Tuesday, however, the site reported that the deal was "dead," and more than a few Banana Republic shoppers were informed via email that their orders were canceled, with no explanation given.
"I just got an email that my order has been canceled," wrote one Dan's Deals user.
"My order was canceled, said another. "I called them and was told that it was a mistake [and] you needed a $200 order to get the $50 off."
The shopper who spoke with Fox News added that she tried to re-order her items after her order was canceled, but that BRSHOP coupon code no longer worked.
WOMAN SUES WALMART OVER BEAUTY PRODUCT PLACEMENT
Angry customers took to Twitter to vent their frustrations with the retailer, with some adding that they no longer planned on giving Banana Republic their business.
It's currently unclear if Banana Republic canceled all orders placed with the coupon code. A representative for the company was not immediately available to comment.
FOLLOW US ON FACEBOOK FOR MORE FOX LIFESTYLE NEWS
Banana Republic isn't the first major retailer to cancel orders after an errant online deal was embraced by shoppers. In Sept. 2017, Anthropologie accidentally listed a nearly $8,000 couch for $0 plus shipping, and later canceled all orders, blaming the mistake on a "glitch."