Alabama supermarket employee returns wallet with $300 cash, goes viral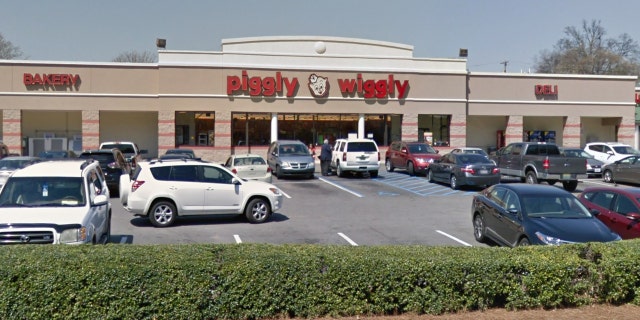 An Alabama teen has gone viral after returning a lost cell phone and wallet filled with nearly $300 cash left behind at a supermarket.
Sheila Spencer, the owner of the misplaced items, posted on Facebook Friday to rave about 17-year-old Anthony, an employee at a Piggly Wiggly in Birmingham.
Spencer explained how she'd been shopping at the store Wednesday after work. Later that evening, she noticed her wristlet, which held her phone and money, was missing. That's when she realized she'd left it in the cart at Piggly Wiggly.
TEXAS WOMAN WHO GAVE AWAY PRE-PAID WEDDING VENUE ATTENDS WINNER'S CEREMONY AS GUEST OF HONOR: 'I'M SO GRATEFUL SHE WON'
"I called them and true enough my wristlet and phone were there. What is even more astonishing is, I had all my money in the wristlet and my iPhone. I asked the store manager who turned it in, and they said it was Anthony," she wrote on Facebook along with a photo of the young employee.
She was so impressed with Anthony that she even gave him a reward and called his mom to tell her how grateful she was.
"I went to bless Anthony today with $100.00, and I also called his mom Joyce to tell her what a great job she was doing with her son. His mom cried tears of joys," Spencer wrote.
She explained that she hoped Anthony's good deed would go viral because "we hear very little about kids when they do something positive" and she wants to "show other young men and ladies that there is honor in doing the right thing."
FOLLOW US ON FACEBOOK FOR MORE FOX LIFESTYLE NEWS
As of Tuesday afternoon, the post had over 1,500 shares 3,400 likes.
Anthony's store manager, Jason, told Yahoo that Anthony is a "really good guy — a good kid with a great heart."
This isn't the first time someone has gone viral for an act of kindness. In August, a supermarket employee in Louisiana was recorded letting a young customer with autism help him stock the store shelves.
People were so touched by the Rouses Market worker, Jordan Taylor, that they started a GoFundMe account for him and raised $100,000 to send him to college.