After 7,000-mile trip, pilots in helium-filled balloon land safely in Mexico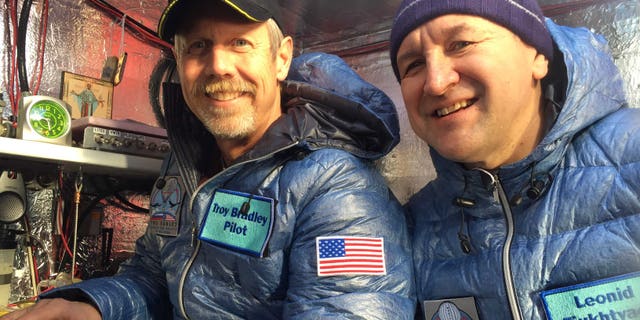 NEWYou can now listen to Fox News articles!
ALBUQUERQUE, N.M. (AP) – Two pilots in a helium-filled balloon landed safely off the coast of Mexico early Saturday after an audacious, nearly 7,000-mile-long trip across the Pacific Ocean that shattered two long-standing records for ballooning.
The pilots landed 4 miles offshore in Baja California about 300 miles north of the popular beach destination of Cabo San Lucas. The pilots came in low and dropped thick trailing ropes into the ocean to help slow the balloon before setting down in a controlled water landing.
Mission control in Albuquerque was packed with balloon team members and the pilots' families as it descended, with all eyes focused on a giant screen showing a map of the coast and the balloon's location.
They exchanged hugs and smiled with relief after it touched down. But it wasn't until they received word that the pilots were safe and aboard a fishing boat headed to the shore that cheers erupted and the cork was popped on a bottle of champagne.
"We're really pleased with the distance numbers we have here and very pleased with the duration numbers," said Steve Shope, mission control director. "These are significant improvements over the existing records. We didn't break them by just a little bit. They were broken by a significant amount."
The world has been tracking the progress of the Two Eagles Balloon team online and through social media sites. Still, the official distance and time of the flight must be confirmed by the Federation Aeronautique Internationale, a process that could take weeks or months.
Troy Bradley of Albuquerque and Leonid Tiukhtyaev of Russia lifted off from Japan Sunday morning, and by Friday, they beat what's considered the "holy grail" of ballooning achievements, the 137-hour duration record set in 1978 by the Double Eagle crew of Ben Abruzzo, Maxie Anderson and Larry Newman in the first balloon flight across the Atlantic. They also easily exceeded the distance record of 5,209 miles set by the Double Eagle V team during the first trans-Pacific flight in 1981.
Bradley and his family have been planning for the record-breaking attempt for 15 years, spending countless hours thinking about every aspect of the journey.
"For Troy, it's a personal thing to do something better than anyone else in the world has done it before and to push himself," said his wife, Tami Bradley, who is a balloon pilot herself.
She said her husband's heroes include early balloonists such as Abruzzo and Anderson.
"For Troy, it's also his way of paying homage to those who came before him by attempting to go after their records," she said.
The pilots were said to be in good spirits at various times during the trip, but it was a grueling ordeal. The balloon's capsule is about the size of a large tent — 7 feet long, 5 feet wide and 5 feet tall. At times, they flew at an altitude of more than 15,000 feet, requiring them to wear oxygen masks and bundle up against the 50-degree temperature inside the capsule. They had sleeping bags, a small onboard heater and a simple toilet.
The original route took the pilots on a path from Japan, across the Pacific Ocean and toward the Pacific Northwest before they encountered shifting weather patterns. They then made a sweeping right turn and headed south along the California coast for the Mexico landing.
By Saturday morning, the Two Eagles team had smashed the records, having traveled 6,646 miles over six days, 16 hours and 37 minutes.
"The technology has improved so much in the last couple of years. I don't think there's going to be any question about the records," said Katie Griggs, a regional director with the nonprofit Balloon Federation of America.
The balloon is outfitted with an array of monitors and other instruments that are tracking its course and compiling the data, using technology that didn't exist in decades past, leaving some claims unproven.
The journey has been tough on the pilots, who have been on oxygen for days; high altitude can take a physical toll. But they've been managing to crack jokes when checking in with mission control and their families.
Follow us on twitter.com/foxnewslatino
Like us at facebook.com/foxnewslatino