94-year-old woman goes skydiving for birthday: 'I better do it now'
Eila Campbell's bucket list just got one entry shorter.
Campbell, a 94-year-old woman from Williamsport, Penn., celebrated her recent birthday by jumping out of a plane alongside her granddaughter and great-granddaughter.
"This year, when I'm going to be this age, this old, I figured I'll never make it for another year," Campbell told WNEP. "I better do it now."
UNITED AIRLINES MAKING MORE CHANGES TO THEIR ECONOMY SEATING
The site also claims Campbell remained "cool, calm and collected" throughout the 10,000-foot fall, even while reaching speeds of 120 miles per hour during the free fall.
"The free fall is kind of a 'wow.' The wind is so terrific. It was great and I loved it. I'll do it again," she told WNEP.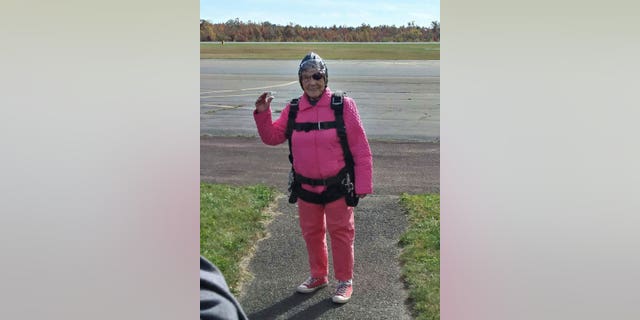 Campbell, as well as her granddaughter Sara Schuelke and great-granddaughter Jess Fox, all jumped in tandem with skydiving instructors with the "Above the Poconos Skydivers" group above the Hazleton Regional Airport in Hazleton, Penn.
Schuelke, too, says her grandmother had been wanting to skydive for a long time. "I wasn't going to miss it," said Schuelke.
FOLLOW US ON FACEBOOK FOR MORE FOX LIFESTYLE NEWS
Don Keller, the owner of Above the Poconos Skydivers and a Guinness record-holder for "most parachute descents," says he's never seen anyone as old as Campbell jump.
However, Campbell isn't the first to make skydiving a family affair: In 2014, four generations of one family all took the plunge together in honor of an 18-year-old's high school graduation, up to and including its 88-year-old patriarch. Former President George H.W. Bush also frequently celebrated his birthdays with a skydive, though his last was in 2014 at age 90.
The Associated Press contributed to this report.