106-year-old woman says key to longevity is staying single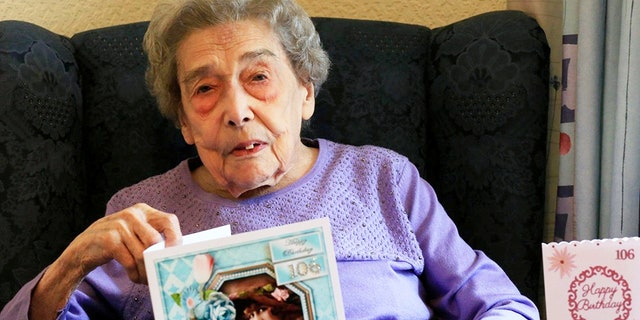 NEWYou can now listen to Fox News articles!
Single life is the key to living longer, one U.K. woman is claiming.
Madeline Dye, 106, of Heeley, in South Yorkshire, England, said her old age was credited to her independence and avoiding relationships, Yahoo News reported.
Dye was born in 1912 and worked as a bookbinder until she retired. However, her niece said she believed her longevity was due to "avoiding the stresses" that often come with marriage and relationships, according to Yahoo News. Dye said she has never had a boyfriend.
BALENCIAGA'S $1,245 'T-SHIRT SHIRT' BAFFLES TWITTER USERS
Dye's niece, Diana Heaton, told the Sheffield Star her aunt did not live in a nursing home until she was 103 years old, and only after a bad fall. She said she would cook for herself when she lived on her own, and even put up her own curtains. Heaton added that her aunt still "walks freely without a stick and is very independent."
"She does still dress herself and goes into the common room and chats with people. She has a great sense of humor still, she has never lost it," Heaton said.
DUNKIN DONUTS TRESPASSER WHO CLIMBED IN DRIVE-THRU WINDOW ARRESTED
"Whenever anyone asks her about her past romances or if she has a husband, she says, 'I've never had one, that's why I'm this age.' She says she has not had the stresses of marriage; it's tongue-in-cheek more than anything. She has always loved her clothes and has always dressed immaculately," she continued.
According to reports, however, Dye's long life could also be due to her practice of walking two miles to work — and doing it four times per day — up a steep hill, according to the Deccan Chronicle. It is unclear when, or even if Dye has given up on the practice entirely.
FOLLOW US ON FACEBOOK FOR MORE FOX LIFESTYLE NEWS
Dye celebrated her birthday with a party at the Norton Lees Hall care home where she resides and a trip to Baslow, in Derbyshire, England, with her family.