Viking fan surprises 13-year old Eagles fan who survived cancer with Super Bowl tickets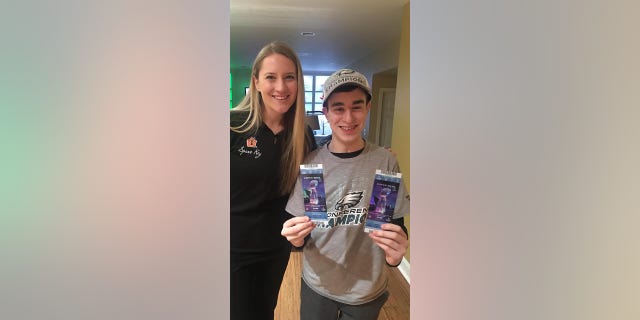 A 13-year-old Eagles fan who beat cancer got some thrilling Super Bowl news from an unlikely source.
Cole Fitzgerald of New Jersey was surprised when he learned on Jan. 29 that he'll be traveling to Minneapolis, thanks to an anonymous donor from Minnesota.
"No way," Fitzgerald said according to a WCCO report.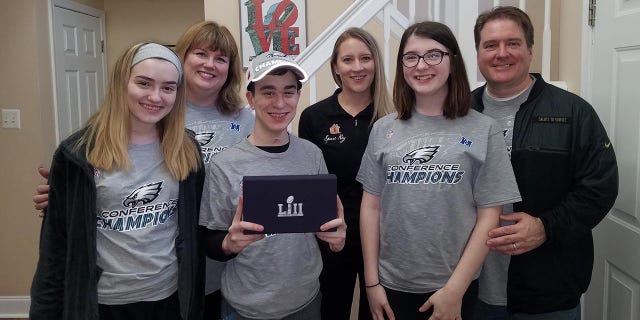 The tickets were delivered to the boy in person thanks to a generous Vikings fan, who won them at a charity event – two days before his team lost to the Eagles.
CHILDHOOD CANCER BY THE NUMBERS
The man from the Twin Cities area contacted Spare Key, a group that helps families with sick children to find someone who would have more fun.
"The person who won the tickets from the raffle said, 'I'm a die-hard Vikings fan. There's no way I can go to the Super Bowl,'" Spare Key Director of Development Mary Serie said.
The eighth-grader has battled neuroblastoma since he was three and has dealt with a number of health issues. He's suffered hearing loss, a side-effect of chemotherapy, and has also never played football because of a joint disorder from birth.
NEIGHBORS PLAN EARLY CHRISTMAS FOR 3-YEAR-OLD BATTLING
CANCER
When the Minnesota man found a story online about the young Eagles fan managing his junior high football team, he wanted to give the prized tickets to him. Cole also has plans to one day be on an NFL team's staff.
"Not many kids in this world have these opportunities," his father Bill Fitzgerald told the Star Tribune.
The Fitgeralds head to Minneapolis on Feb. 2 where they will get a ride in a Tesla, attend a Super Bowl pregame party and then the big game on Sunday. Delta Airlines and Country Inn and Suites have donated their travel. The trip is estimated to cost between $20,000 to $25,000, for wich the Fitzgeralds are so grateful.
The father was touched to know there are generous people, "in other communities as well that are willing to share even when their own hearts have been broken."
"I want to thank the fan," Cole said. "Sorry for your season. Good luck next year."