VA enlists help of electromagnetic head device to treat veterans battling depression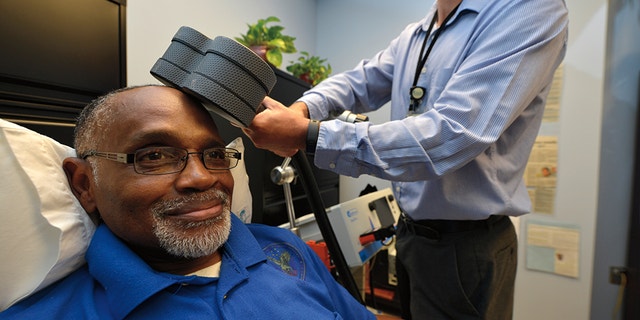 Vietnam veteran Percy Jones is one of thousands who have served in the military and now suffers from depression. Jones fought his battle with depression for years and eventually began isolating himself, making matters worse.
"I got angry easily and I was always very nervous," Jones told Fox News."I couldn't sleep. I started drinking too much.It got to the point where I was suicidal. I just didn't want to live."
It's not just veterans who are at risk of depression, as 11,887 active duty service members received a diagnosis between January and May of 2016 alone. That number adds to the 774,000 veterans who received a possible diagnosis of major depression in 2016.
The U.S. Department of Veterans Affairs (VA) is providing a new option to help fight the disorder called Repetitive Transcranial Magnetic Stimulation, or rTMS therapy. It's a device that uses an electromagnet charged with electricity that is applied to specific points on the patient's head. The powerful magnetic field can then affect the brain cells of the person suffering from depression.
The VA purchased 40 rTMS devices to be distributed at facilities across the country.
Jones is the first South Carolina patient to receive rTMS therapy. He began seeing Dr. Mark George, the man who invented rTMS therapy, and enrolled in a national trial at the Charleston VA. The therapy involves up to 30 sessions over a six-week period. Jones' treatments lasted 30 minutes per day, five days per week, for six weeks straight. Jones says he saw results shortly after enrolling in the trial.
"In the first week and a half I could feel a difference," Jones said. "I started realizing that I was myself again."
Kate Beaver, a spokesperson for the VA in Charleston, told Fox News that 60 percent of patients that received the treatment for clinical trials reported their depression improved or disappeared.
"Some patients who get well will stay well indefinitely," Beaver said. "Others may need 'booster' sessions from time to time."
Beaver said there are a few side effects that patients experienced during or shortly after getting the treatment: scalp discomfort, headache, facial twitching or pain which can be treated with over the counter pain medications.
"These symptoms tend to lessen or go away over treatment time," Beaver said. "Seizure during treatment is the most serious known risk of TMS, and only a very few cases of seizure have been reported. There is little evidence of risk of seizures using TMS the way it is used for depression."
Most insurance companies do not cover the procedure, which could mean thousands in out-of-pocket costs. Terrence Hayes, spokesman for the VA, said the department is currently working with various insurance companies to get better coverage. He said veterans will likely pay a small portion of the overall cost.
"The full course of therapy is variable and can cost between $6,000 and $12,000, depending upon the patient's condition and the number of sessions needed," Beaver said.
Twenty rTMS devices, costing up to $100,000, will be delivered this year and 20 more are planned for 2018. This decision came nearly three weeks after President Trump announced that it was his top priority to ensure that veterans get the care they need when and where they need it.