Urgent call for blood donors as Florida school shooting depletes supply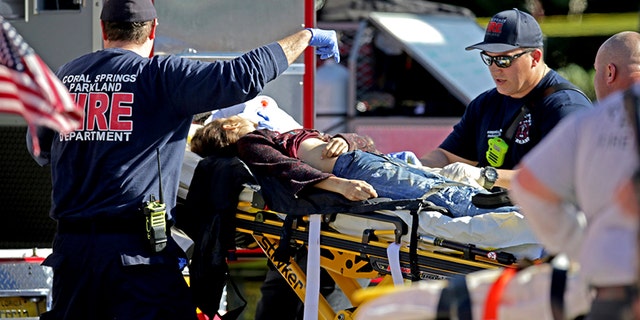 There is an urgent need to replenish the blood supply in Florida following Wednesday's school shooting. The area hospitals were prepared with blood on-hand at the time of the massacre, but now there is an effort to replenish blood type O negative, the kind most commonly used in trauma situations.
OneBlood, a Florida-based blood center, rushed several hundred additional units to Broward Health North Hospital and Broward Health Medical Center immediately after they were notified of the mass casualties.
OneBlood's vice president of marketing and communications, Susan Forbes, told Fox News they are urging people to donate more O negative to replenish the supply that was dispatched.
"Seven percent of the population has O negative blood," Forbes explained. "However, it is the type in the most demand because it is the universal blood type, meaning it can be given to anyone regardless of the patient's blood type," she said, adding that during emergencies doctors don't have time to check blood type.
NIKOLAS CRUZ: A PORTRAIT OF SUSPECTED FLORIDA HIGH SCHOOL GUNMAN WHO SHOT AND KILLED 17 PEOPLE
Forbes explained blood can take a few days to process. The additional units sent following the shooting were donated just a few days ago, so "the people who donated blood when there was no tragedy are really the first responders who do their part to save lives."
According to the American Red Cross, every two seconds someone is in need of a blood transfusion in this country.
"People cannot take blood supply for granted, yesterday's shooting shows why a ready blood supply is imperative 365 days a year, don't wait for the tragedy!"
OneBlood collected 28,500 units of blood within seven days following the 2016 nightclub shooting in Orlando, replenishing 85 percent of the supply that was used on the victims.
ONEBLOOD: NEED TO REPLENISH BLOOD SUPPLY AFTER DEADLY
SHOOTING IN PARKLAND
OneBlood is urging people who have O-negative blood type to visit a donor center or Big Red Bus to help replenish the supply. People age 16 or older who weigh at least 110 pounds are eligible to give.
Forbes said people Thursday morning are starting to come to their centers to do their part, "It's a heartwarming to see people come back and help replenish blood supply."