UK's health care system hooks up with Tinder to recruit organ donors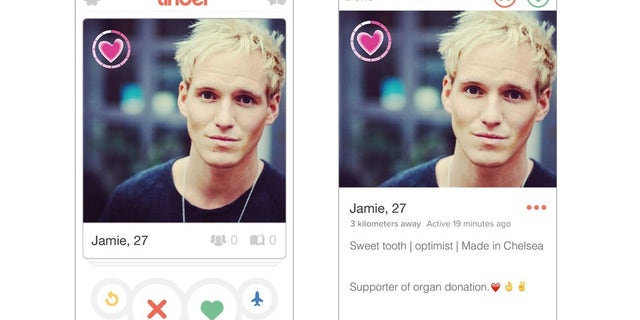 Stories abound of people in need of organ transplants finding proper matches on social media by luck alone, but the United Kingdom's National Health Service (NHS) is aiming to facilitate those connections with a new partnership. For the next two weeks, people who use the dating app Tinder and swipe right to match with three celebrities will be encouraged to become an organ donor in the country, the BBC reported. The NHS is the U.K.'s publicly funded health care system.
"While a third of the U.K. population have registered their intention to donate on the NHS Organ Donor Register, millions more support donation but haven't taken the final step to sign up," Sally Johnson, director of organ donation and transplantation at NHS Blood and Transplant, told the BBC. "Joining the register takes only a couple of minutes— about the same amount of time as a few swipes on Tinder."
BBC.com reported that there are nearly 7,000 people on the transplant waitlist in the U.K. and that more than 6,000 people across the country have died while waiting for an operation over the past decade. NHS Blood and Transplant reported in July that for the first time in more than 10 years, the number of deceased organ donors had fallen.
During the NHS' new campaign, whenever a Tinder user swipes right on either Olympic gold medalist Jade Jones, actress Gemma Oaten, who stars in "Emmerdale," or actor Jamie Lang, who stars in the reality TV show "Made in Chelsea," they will see a message that reads: "If only it was that easy for those in need of a life-saving organ to find a match," along with info for how to become an organ donor. Those celebrities' profiles will also feature a special logo, a heart, marking their participation in the effort. On Tinder, swiping right indicates a user's interest in the other person.
"Tinder users regularly make the decision to swipe left or right wondering whether someone may be the person they are looking for," Hermione Way, Tinder's head of European communications, told BBC.com. "While those swiping decisions are important and could be the first step to a successful relationship, we hope that the NHS profiles featuring Jamie, Jade and Gemma will encourage people to make and act upon a different decision too— to sign up as an organ donor."