TV anchor's bucket list post for dying dog goes viral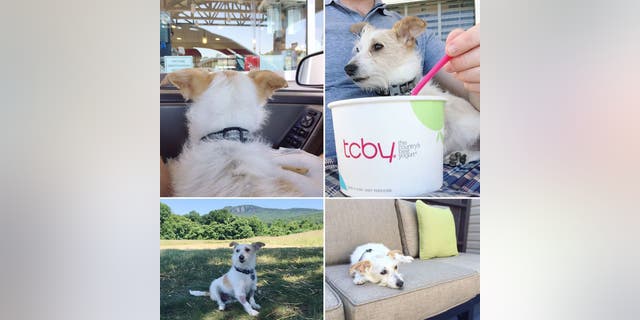 NEWYou can now listen to Fox News articles!
A Greensboro news anchor's post about his beloved dog's "bucket list weekend" has been shared nearly 15,000 times, with tributes pouring in from all over the country. Chad Tucker, a reporter at WGHP, rescued Otis, a Bichon Frise and Jack Russell mix, 10 years ago, Fox43 reported.
"Otis was my constant. When I would come home depressed, heartbroken and feeling like a failure, there was Otis," Tucker wrote in a Facebook tribute. "He listened to all my troubles and loved me when I didn't love myself."
Shortly before his death on Sunday night, Tucker and his wife noticed changes in Otis' behavior but thought it was related to bladder stones. Veterinarians told the family Otis was suffering from diabetes, Cushing's disease, pancreatitis and progressive kidney disease, Fox 43 reported. He was hospitalized for a week but showed no improvement, so the family brought him home for a bucket list weekend that included a nap under a walnut tree, a long car ride, a morning at Pilot Mountain, an early Christmas photo shoot and an afternoon spent playing in the sprinkler.
"Despite being sick Otis wouldn't let Carson Parry play in the water alone," Tucker wrote of his child's relationship with Otis. The family has two children. "Weak, he stopped up, walked over and stood by her side like he's always done. Just before the lightning bugs started, Carson Parry asked Otis to hop in her little car for a ride, which he did as he always has. Knowing he was sick she told him, 'We won't go far.'"
The family went for ice cream, enjoyed a picnic and gave Otis extra cuddles, but he knew his time was nearing an end as the weekend came to a close, Tucker wrote.
"We dropped Carson Parry off at a friend's home where she told her loyal friend, in her soft toddler voice, 'Good-bye Otis… see you in heaven," Tucker wrote.
The post has garnered nearly 6,000 comments.