Think Outside the Pizza Box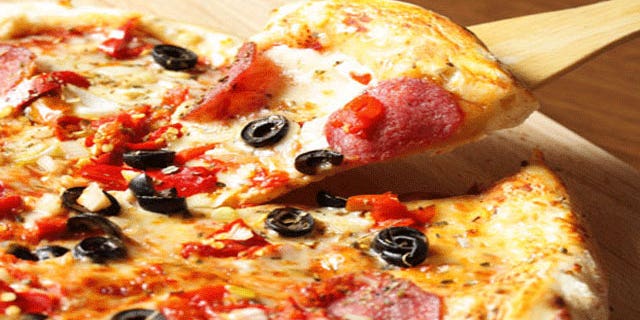 Are you among the many people who think pizza is a "bad" food – laden with fat and the indulgent item you eat when you binge after being on a low or no-carb diet?
Well, think again.
Consider how a pizza can be a perfect representation of the new MyPlate (which I still don't love) - grains, vegetables, fruits, dairy and protein - and you can even eat the dish!
The All-American Food
Pizza is as American as apple pie, hamburgers and hot dogs. According to a recent Gallup poll, children ages three to 11 prefer pizza over all foods for lunch and dinner. If you're a parent, it can be rather challenging to find something economical, and healthy, that the whole family can enjoy!
Not Your Mother's School Lunch Pizza
Still skeptical about it being good for you? Domino's Pizza Smart Slice program was developed for schools, and uses ingredients – sauce, cheese and crust – containing less sodium and fat, with half the flour being whole wheat. Here's the kicker, Jaime Oliver: It works within the USDA nutrition guidelines and is well within the school cafeteria's budget. I had the chance to taste it last week and it is much better than the pizza I used to eat in school.
"Paint" Your Plate
There are more restaurants providing healthier options – along with being sensitive to food allergies. Crusts can be just about anything - whole wheat, rice flour, gluten-free, and get this – probiotics added. Yes, there is one chain called Naked Pizza, which boasts gut health in every bite. Think of the crust as your canvas for your meal. You can put anything on top… fresh veggies, low-fat cheese, yogurt (yes, I tried a whole grain pizza with Greek yogurt and fresh fruit at the Culinary Institute of America), tomato sauce, salsa, beans, fish, chicken, beef, hummus, along with salad. If you put your mind to it, you could make a breakfast, lunch, dinner and dessert pizza.
Hold That Cheese!
This is where I have to admit my weakness – cheese. Cheese provides only five percent of the calories of the U.S. diet, yet 21 percent of the calcium. Low-fat cheeses have come a long way, but skip the fat-free cheese for lack of melting factor. Even people who are lactose intolerant can tolerate cheddar and other hard cheeses. Mozzarella is a lower-lactose cheese and often found among a variety of cheeses used on pizza.
Make Your Own
If you're like me, the thought of making dough from scratch is frightening. Luckily, we have options. Grocery stores and warehouse stores, like Costco and BJs, are the No. 1 place where people buy pizzas – simply bring home and bake in your oven. You can even put it on the barbeque this summer to add some variety to your grill. A great way to get kids to eat food is to include them in the cooking process (this includes big kids, too – like parents). So consider, having a pizza party where everyone gets their own dough and uses their imaginations (and fresh ingredients) to create a signature pizza. We did this at my friend's home in the Poconos after a day of frolicking in the snow – cooked on the barbecue (no pizza stone needed).
DIET = Did I Eat That?
So when you are worrying about making better food choices to meet your health needs… just remember pizza is a great vehicle for getting many of the nutrients your body needs. Let's face it – taste drives consumption and you can choose to make or buy a healthier pizza. I am a "Jersey Girl," and we are pizza snobs (I seldom order it when I travel around the country). My personal favorite is Cono's eggplant pizza in Sea Bright, N.J. – it is the only way I can get my children to eat eggplant. I do stop at two slices - ahem, portion control – and savor every bite.
Felicia D. Stoler, DCN, MS, RD, FACSM is a doctorally trained registered dietitian, exercise physiologist, TV personality and expert consultant in disease prevention, wellness and healthy living. She is the author of "Living Skinny in Fat Genes: The Healthy Way to Lose Weight and Feel Great." She hosted TLC's groundbreaking series "Honey We're Killing the Kids!" Become a fan of Felicia on Facebook, follow her on Twitter or visit her website FeliciaStoler.com