The 5 most popular plastic surgeries for men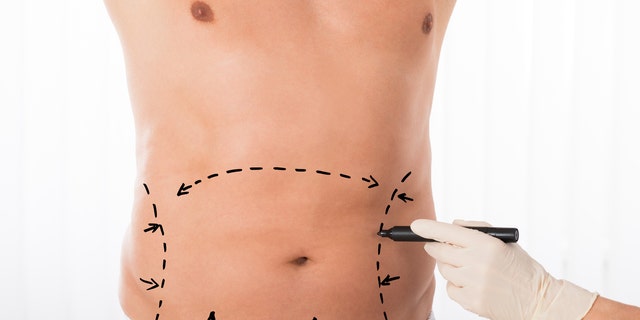 NEWYou can now listen to Fox News articles!
Plastic surgery is not just for women: The American Society for Aesthetic Plastic Surgery (ASAPS) recently released statistics on the most popular plastic surgery procedures of 2016, with procedures on men making up about 9 to 10 percent of the total.
Fox News spoke to Dr. Daniel Mills, a plastic surgeon based in Laguna Beach, California, and president of the ASAPS, as well as Dr. Clyde Ishii, a plastic surgeon based in Honolulu, Hawaii and the President-Elect of the ASAPS, to find out what some of the most popular plastic surgery procedures for men are.
1. Liposuction
Liposuction (the removal of fat from the body) is one of the most common surgical procedures for men, and has been for a number of years, Ishii told Fox News. In 2016, surgeons performed over 45,000 liposuctions procedures on men.
CAN A HEALTHY SEX LIFE BOOST YOUR JOB SUCCESS?
2. Male breast reduction
One procedure that's become even more popular? Gynecomastia, or male breast reduction surgery. Up to 1 in 4 men have some form of breast enlargement, Ishii said. He explained that as men have become more comfortable with the idea of getting plastic surgery, more and more have opted for this procedure — with over 31,000 performed in 2016.
3. Eyelid surgery
Popular among women as well, eyelid surgery is cosmetic and functional: Surgeons can lift lids that are interfering with vision, Ishii said. Surgeons performed over 28,000 procedures on men in 2016.
THE 6 PROCEDURES PLASTIC SURGEONS DON'T WANT YOU TO GET
4. Nose surgery
Men often opt for nose surgeries as well — usually those in their teens and early twenties, Mills told Fox. In 2016, surgeons performed over 16,200 on men.
5. Botox
Many non-surgical procedures are popular among men as well, including Botox (over 450,000 Botox procedures were performed on men in 2016). Less invasive procedures such as Botox can help men look fresher and younger without the longer downtime of surgery, Ishii explained.
FOLLOW US ON FACEBOOK FOR MORE FOX LIFESTYLE NEWS
And for men, it's about the competitive advantage, Ishii said: While many of his female patients opt for plastic surgery to boost their confidence and feel better about themselves, many of his male patients instead are seeking that extra edge in dating or the workplace, he explained.
Mills agreed, adding that many men opt for plastic surgery to look as young and competitive as they feel.