The 14 healthiest items at your favorite fast food restaurants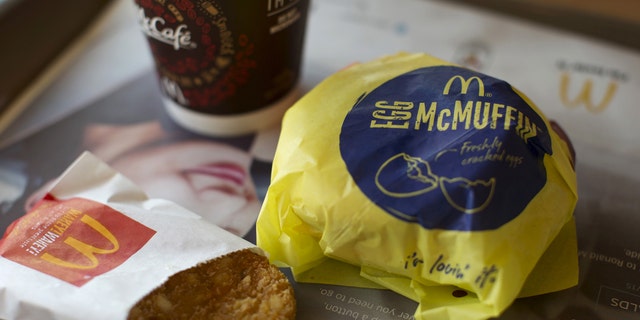 Think all fast food includes grease and trans fats? Thankfully, some of your favorite fast-food restaurants offer some pretty balanced meals. Try one of these dietitian-approved picks on your next trip though the drive-thru!
CHICK-FIL-A
Spicy Southwest Salad
Chicken is the must-have offering at Chick-fil-A, so have it in this healthier salad — which combines grilled spicy chicken breast with lettuce, baby greens, red cabbage, carrots, and more to provide a protein- and veggie-rich meal. "To cut back on sodium and some fat, use only half the dressing packet," Toby Amidor, MS, RD author of "The Greek Yogurt Kitchen," told Fox News.
Grilled Nuggets
When a food is grilled, minimal oil — if any — is used to cook it. So a grilled entrée is a much better choice than a fried one. Pair an eight or 12 pack with a side salad or fruit cup. "Although the sodium of the nuggets is on the higher side, this is much better than many of the other menu choices," Amidor said.
5 PIECES OF FURNITURE THAT DOUBLE AS FITNESS EQUIPMENT — AND HOW TO USE THEM
TACO BELL
Power Menu Veggie Bowl
Finding a protein-rich vegetarian fast food option used to be a challenge, but this veggie bowl changes that. "With black beans, rice, guacamole, pico de gallo, and crisp romaine lettuce all in one bowl, this option offers 16 grams of protein and will definitely keep you full for hours," Natalie Rizzo, MS, RD, owner of Nutrition à la Natalie in New York City, told Fox News. Take a pass on the sour cream to skip unnecessary calories.
Chicken Soft Taco
Looking for more traditional Tex-Mex? A single chicken taco offers 12 grams of protein (almost a quarter of the daily value) for just 160 calories. "What's great about Taco Bell is you can customize your order to make it healthier," says Rizzo, who suggests opting for "fresco" style, which means replacing the cheese and sour cream with pico de gallo. Also add romaine lettuce and black beans for more fiber and nutrients. "Two chicken tacos with these substitutions will make a pretty well-balanced meal," she says.
MCDONALD'S
Egg McMuffin
Mickey D's now serves breakfast all day, which means you can have a McMuffin for lunch or dinner. For 300 calories, you get 18 grams of protein, over one-third of the daily value. Skip the American cheese, and you'll lower the calories, saturated fat, and sodium. Have a side of apple slices to get add some produce to your meal.
THE TRUTH ABOUT 6 WACKY CELEB HEALTH TRENDS
McDouble
Craving a burger? Order this. "It's unusual for me to recommend a double of anything unless it's veggies," Keri Gans, RDN, author of "The Small Change Diet," told Fox News. "But if you really want a burger, then the McDouble is your best bet." Again, skip the cheese to increase the nutritional profile of your meal. "By doing this, you'll still get a burger packed with 20 grams of protein and 2 grams of fiber," said Gans, who suggested adding a couple of tomato slices to get the benefits of vitamin C.
BURGER KING
Grilled Chicken Sandwich
Here's a sandwich made with white meat chicken, fresh lettuce, and tomatoes. Pass on the mayo, and you'll save 110 calories and 2 grams of saturated fat — and end up with a meal under 400 calories.
MorningStar Veggie Burger
Vegetarians can get an entrée with 22 grams of satiating protein — and toppings of lettuce, tomato, onion, and pickles. "Although th is option is a bit high in sodium, it's one of the lowest-calorie burgers on the menu for anyone who wants a lighter option," said Rizzo. Skip the mayo to save on calories and fat, and add extra veggies by ordering a garden side salad (use just a little of the dressing).
FOLLOW US ON FACEBOOK FOR MORE FOX LIFESTYLE NEWS
DUNKIN DONUTS
Egg and Cheese on English Muffin
"This sandwich is more moderate in calories and has less fat than most of the other sandwiches at Dunkin Donuts," Alissa Rumsey MS, RD, owner of Alissa Rumsey Nutrition and Wellness in New York City, told Fox News. By choosing an English muffin instead of a bagel, you'll get less calories and refined carbs. Some Dunkin Donuts sell bananas, so grab one if you can to add some produce to your meal.
Egg White Flatbread
With this sandwich, you'll get 17 grams of protein, along with 4 grams of filling fiber and some vegetables. "The carbohydrate content is lower than the bagel sandwiches, which means your blood sugar and energy levels will stay more stable," said Rumsey.
STARBUCKS
Spinach, Feta & Cage-Free Egg White Breakfast Wrap
Compared to many of the other breakfast sandwiches, this one is higher in protein and fiber — and lower in saturated fat. "It still has a good deal of sodium, so pair it with a piece of fresh fruit and make sure to drink plenty of water," said Rumsey. And Starbucks serves breakfast all day, so you can have this for any meal.
Protein Bistro Box
This picnic-style meal offers a hard-boiled egg, sliced apples, grapes, cheddar cheese, peanut butter, and a small piece of bread. "It provides a balanced meal with protein, whole grains, fruit, and some fat," Rumsey noted. And you can eat it with your hands, so it's a good pick if you're on a road trip and stuck behind the wheel.
5 TRENDY HEALTH FOODS THAT AREN'T WORTH YOUR MONEY
SUBWAY
Oven Roasted Chicken on Multigrain Flatbread
For 330 calories, you get 23 grams of protein, almost half the daily value. You also get 7 grams of fiber (over a quarter of the daily value) when you order it with multigrain bread. "This is great for lowering cholesterol and maintaining blood sugar control," Gans said. Load the sandwich with veggies to get even more fibe — and for extra flavor but only a handful of calories, add a squeeze of yellow mustard.
Classic Tuna on 6" 9-Grain Wheat
Here's a healthier version of a tuna sandwich. "Typically, tuna sandwiches are very high in calories and saturated fat," Gans said. "But this one from Subway has less than 500 calories and 4.5 grams saturated fat." When you order it on the 9-grain wheat, you'll get 5 grams of fiber, a fifth of the daily value. Skip the condiments and load your sandwich with lots of veggies — spinach, tomato, red onion, green peppers, and cucumber.
Amy Gorin is a registered dietitian nutritionist and freelance writer in Jersey City, NJ. Connect with her on Facebook, Instagram, and Twitter.