Texas woman welcomes 3rd set of naturally conceived twins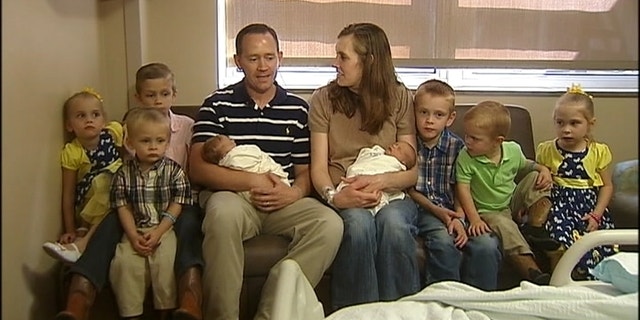 NEWYou can now listen to Fox News articles!
A North Texas woman says she has conceived her third set of twins naturally, rounding out her family of 10.
Fox 29 reported that Josh and Carrie Briggs had two other sets of twins and two single births prior to welcoming their newest twins, Micah and Ezra on Tuesday at Texas Health Fort Worth.
"It's completely the Lord saying I have a plan for your family to have twins and several sets," mom Carrie said. "It's overwhelming having twins, twins, twins."
Eldest brother Josiah, 8, told the news station he was thrilled to meet the latest additions to the family. The twins are all fraternal, Fox 29 reported.
"I was really excited because eight children— that's a lot!" he told the news station.
Carrie said teamwork is the only way they're able to handle all the kids. When asked whether things always go smoothly, she laughed and told Fox 29, "No … but it's life!"
According to the Centers for Disease Control and Prevention (CDC), about 33.9 twins are born among every 1,000 live births in the United States. While scientists don't know the cause of conceiving identical twins, fraternal twins are more likely to run in families, according to the National Institutes of Health. Fraternal twins are thought to result from hyperovulation, which is the release of more than one egg in a single menstrual cycle.