Texas triplets, born early at Houston hospital, head home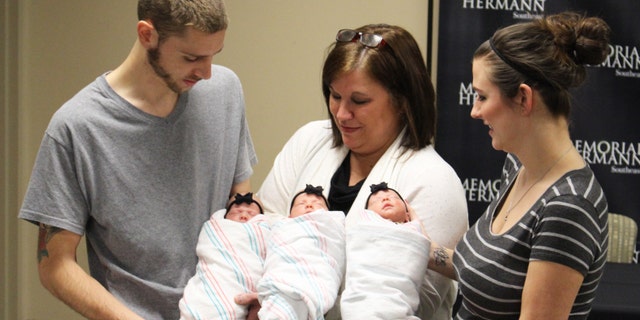 Identical triplet girls born about 10 weeks premature at a Houston hospital have gone home with their parents who at first expected twins.
Addison, Kinsley and Savannah Harris were discharged Monday afternoon from Memorial Hermann Southeast Hospital.
The girls were born Dec. 1 to Stephanie and Brad Harris of League City. The babies weighed between 3 pounds and 3 pounds, 8 ounces at birth.
The triplets spent weeks in neonatal intensive care, which hospital officials say typically accompanies multiple births.
Stephanie Harris says doctors at first told her to expect twins. A later ultrasound determined she was having triplets.
Brad Harris says he's prepared but way outnumbered by females in the family.