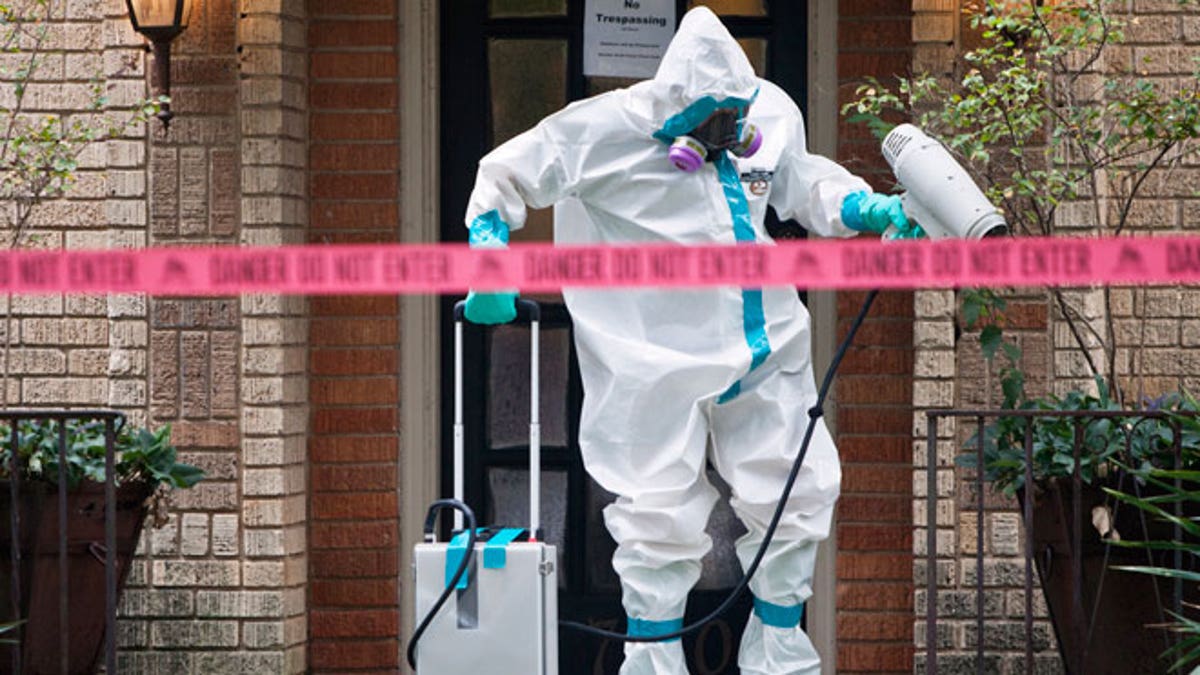 A Texas nurse who caught Ebola from an infected patient was no stranger to the risks of working around one of the world's most feared viruses.
In nursing school, Nina Pham had studied microbiology and infection prevention. A classmate said students discussed Ebola in detail, even reading "The Hot Zone," a bestselling 1994 book about the disease's origins.
Pham continued her training after graduation, obtaining certification in critical care two months before Ebola arrived in the United States.
On Tuesday, her infection raised new questions about whether American hospitals and their staffs are adequately prepared to contain Ebola. And early Wednesday, Texas health officials announced that a preliminary test indicated another health care worker at the hospital had been infected with the disease.
The Centers for Disease Control and Prevention acknowledged that Pham might not have been infected if a special response team had been sent to Dallas immediately after the Liberian patient was diagnosed.
CDC Director Tom Frieden said the agency is creating an "Ebola response team" and bolstering training nationwide on how to respond to an Ebola case.
Pham, the first person to contract the disease within the United States, was among more than 70 staff members at Texas Health Presbyterian Hospital in Dallas involved in Thomas Eric Duncan's care before he died last week. The 26-year-old nurse remained hospitalized Tuesday in good condition and said in a statement that she was "doing well."
When Pham's mother learned her daughter was caring for Duncan, Pham tried to reassure her that she would be safe.
Pham told her: "Mom, no. Don't worry about me," family friend Christina Tran told The Associated Press.
Duncan's medical records, which the family shared with The Associated Press, show that Pham helped care for Duncan throughout his hospital stay, including the day he arrived in intensive care and the day before he died.
The records make numerous mentions of protective gear worn by hospital staff, and Pham herself notes wearing the gear in visits to Duncan's room. But there is no indication in the records of her first encounter with Duncan, on Sept. 29, that Pham donned any protective gear.
Pham got her nursing degree in 2010 from Texas Christian University in Fort Worth. A school spokeswoman and the classmate described the curriculum. The classmate spoke on the condition of anonymity, saying she did not want to infringe on Pham's privacy.
Two nurses from Emory University Hospital in Atlanta with special training in Ebola care are now helping to train staff at the Dallas hospital, Frieden said.
"I've been hearing loud and clear from health care workers from around the country that they're worried," said Frieden, who also said the CDC is considering whether Ebola patients should be transferred to one of four hospitals with specialized bio-containment units.
Though the CDC said a breach in protocol was probably to blame for Pham's infection, the man's illness was so complicated and rare that the risk of transmission would have existed at any hospital, experts said.
"Even in the best of hospitals following all the protocol, we can minimize the risk to hospital personnel, but we can never eliminate it," said Dr. David Weber, an epidemiologist at the University of North Carolina's hospital.
What's more, staff in Atlanta and another containment unit in Omaha, Nebraska, would have trained and drilled for years for the possibility of such an occurrence, and they had advance warning of an Ebola case heading their way.
"They were notified in advance, 24, 48 hours - they had plenty of time to prepare, they were met at the door by people all garbed," Weber said. "That's a more controlled situation than a patient walking through the door that you think may or may not have Ebola."
The isolation unit at the Nebraska Medical Center holds drills about every three months, rotating through various infectious diseases, including Ebola, avian flu, smallpox and anthrax, said Shelly Schwedhelm, nursing and training director of the unit.
The drills always include "an element of personal protective equipment," she said.
"I look at it just like I would a sport," she said. "Your teams practice a lot, so that hopefully, when you get to the game, people know what they're doing and how to do it and what role they play."
Martha Kuhl, a pediatric nurse in Oakland, California, and an officer with National Nurses United, said the same training and gear that helped safeguard nurses at Emory and in Nebraska must be offered everywhere.
Kuhl said she simply received a lengthy email about Ebola, but no other training.
"Most nurses have not been properly prepared," she said. "You never know when you're going to be approached by a patient or family member who meets the criteria."
Back in Texas, people who know the Pham family said they were part of a closely knit, deeply religious community of Vietnamese Catholics in Fort Worth.
The Rev. Jim Khoi, pastor at Our Lady of Fatima Church, said Pham appeared to be in good spirits when she spoke to her mother, Ngoc Pham, via video chat.
Pham's mother is "calm," Khoi said. "She trusts in God. And she asks for prayers."