Student creates 3-D printed arm for professor's son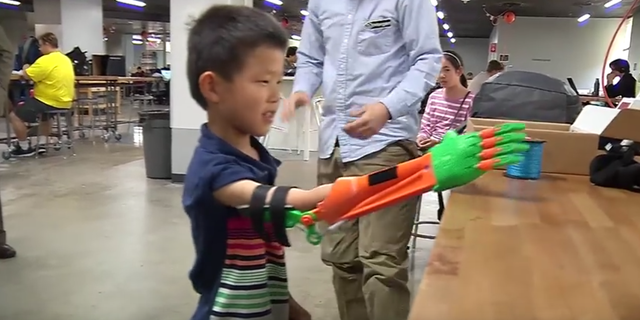 An 8-year-old boy is looking forward to doing things like bike riding and rock climbing after receiving a custom 3-D printed arm from a student at the college where his dad teaches. Garrett Clark, whose dad is a professor at the University of Texas Arlington, has already used his new arm to high-five his brother and arm wrestle his mom, CBS 11 reported.
It's all been made possible by Adam Williams, a recent UTA graduate who heard about Clark's story and felt moved to do something.
JUDGE OFFICIATES DAUGHTER'S WEDDING DAYS BEFORE CANCER DEATH
"I love building things," Williams, who works with the university's "Fab Lab," told CBS 11. "That alone makes me happy. But seeing that it actually helps someone is a warm, tingly feeling."
Williams, who is also working on flippers to help Clark swim, said the new arm improves upon the concept of a prosthetic that can flex and grip. The project cost about $100 for materials.
WOMAN DIES AFTER CONTRACTING RARE TICK-BORNE VIRUS
"I feel like everyone should have an opportunity to at least have a childhood," Williams told CBS 11.
Clark's dad, Andrew, told the news outlet that he's excited to see his son gain more independence with his new arm. Video of Clark receiving his new arm was shared by the university in April.