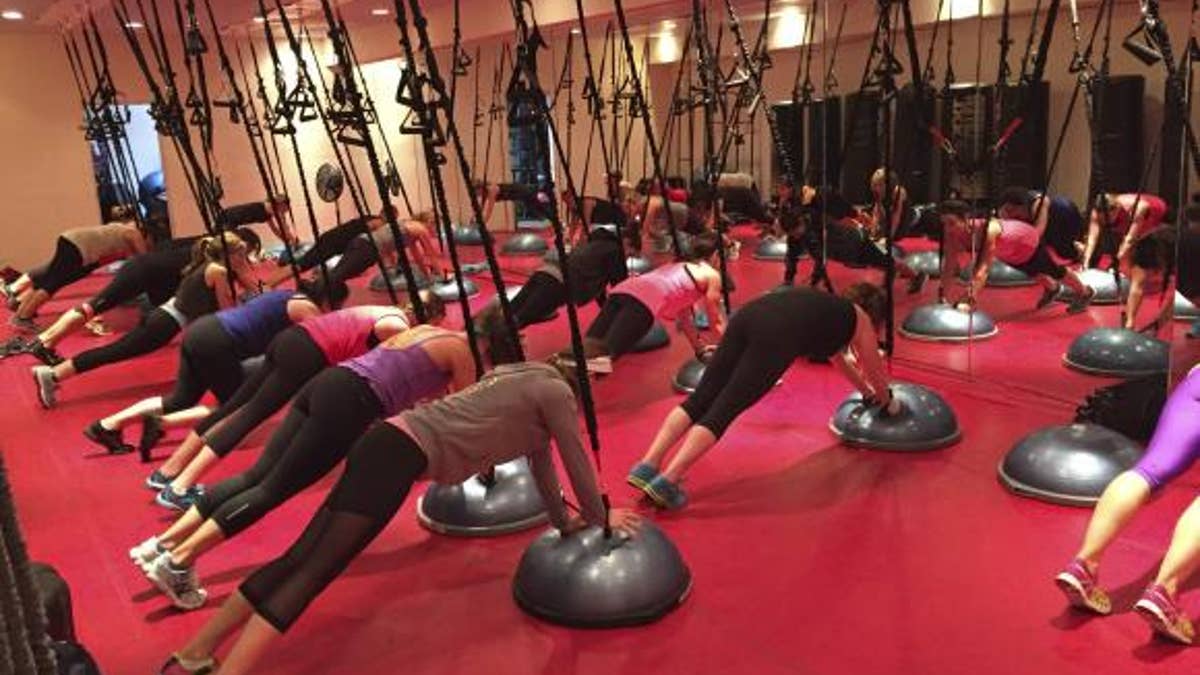 NEW YORK – Old-time workouts from step aerobics to spinning are getting a new bounce with a system of aerial bungee cords called Spiderbands, fitness experts say.
Spiderbands look like TRX, a system of suspension cables that leverage body weight. While it may not suit every venue, fitness experts say it spins a web of resistance and assistance with enough variety to snare even the most restless exerciser.
Fitness trainer Franci Cohen, owner of Fuel Fitness in Brooklyn, New York, developed Spiderbands, which can be used in gyms where they are rigged to the ceiling and attached to the hands and feet. At her gym the Spiderbands are used with a soft matted floor.
"It's basically a pliable inner tubing covered by a bungee outer sheath," said Cohen of the weight-bearing bands, on which, depending on the workout, handles, bars and boxing gloves are attached.
Cohen, who holds a master's in exercise physiology, took seven years to develop 19 Spiderband workouts, which range from step aerobics to yoga. She plans to expands the enterprise next year.
The aerial component gives a total-body cardio resistance workout that leverages gravity and body weight.
"Doing bicep curl on the ground, the rest of body is standing still, but with the bands, the body needs to balance," she explained.
Body weight training, such as lunges, push-ups and squats, for which the Spiderbands can be used, are among the top fitness trends forecast for 2015 by the American College of Sports Medicine (ACSM), which polled 3,400 health and fitness professionals worldwide.
Cohen said the bands allow exercisers to access challenging, otherwise unavailable, moves. Chin-ups that are out of reach for many women, are suddenly doable due to the buoyancy of the bungees.
"It's as if you have a spotter working with you," she said.
Exercise physiologist Neal Pire, an ACSM expert from New Jersey, calls the Spiderbands an "interesting little gizmo" that combines resistance with assistance.
"If you're doing squats using those bands, it's assistance on coming up; if you're pulling down, it's giving resistance," he said. "It looks useful. So long as the exercises are assisted or resisted appropriately you have a good tool with a lot of variety."
He also notes that the workout room requires construction appropriate to accommodate the bands.
"It's a matter of constructing the room properly," he said.