San Diego begins 'sanitary street washing' of downtown after pooping homeless people cause deadly hepatitis outbreak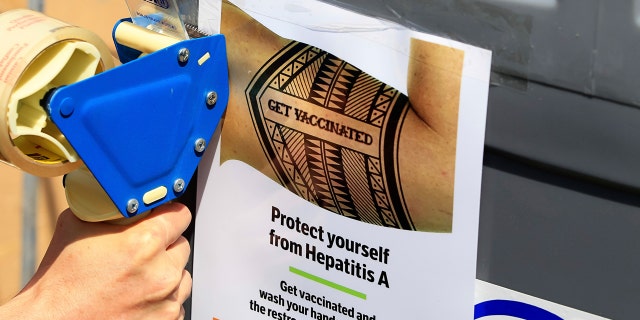 San Diego has begun sanitary street washing efforts after county officials demanded the city act on a plan to address the "fecally contaminated environment" downtown. The city and county have been wrestling with a way to address an ongoing hepatitis A outbreak that has been linked to at least 15 deaths and 400 hospitalizations.
On Monday, crews began the effort by spraying down East Village sidewalks with a bleach solution. San Diego mayoral spokeswoman Craig Gustafson said the cleanings are scheduled to occur three times a week, every other week, according to CBS8.
DOCTOR SUSPENDED AFTER 4 PATIENTS TEST POSITIVE FOR HEPATITIS C
"By disinfecting our sidewalks and making additional public restrooms available 24/7, we're following the direction of County health officials to address the unsanitary conditions that have helped fuel this outbreak," Gustafason said, according to the San Diego Tribune. "We're taking swift action to eradicate this virus from our streets and keep our most vulnerable residents safe."
The liver disease outbreak started last November, with the homeless population most affected. Earlier this month, city officials declared a public health emergency to ease access to state funds and provide legal protection for the new sanitary measures.
Under the new measures, areas with high concentrations of homeless people are set to receive roughly 40 portable hand-washing stations to help combat the disease, which can spread through fecal matter when people fail to thoroughly clean their hands after using the restroom.
TODDLER HOSPITALIZED AFTER INGESTING MARIJUANA
The measures detailed plans to use bleach-spiked water for high-pressure washing to remove "all feces, blood, bodily fluids or contaminated surfaces." In an Aug. 31 letter from the county health department, officials asked the city to move forward with the sanitation measures and gave the city five days to respond with a plan, according to the LA Times.
The county also asked the city to "immediately expand access to public restrooms and wash stations within the city limits that are adjacent to at-risk populations." Last week, county officials installed hand-washing stations in areas homeless people gather.
San Diego had decided to mimic a sanitation campaign employed by Los Angeles after previous vaccination efforts and education programs failed to curb the infection rate. In total, the city has provided vaccinations to approximately 19,000 people. Dr. Wilma Wooten, the county public health officer, said she expects the number of victims to increase because of the illness' long incubation period, Fox 5 San Diego reported.