Researchers using virtual reality to help treat PTSD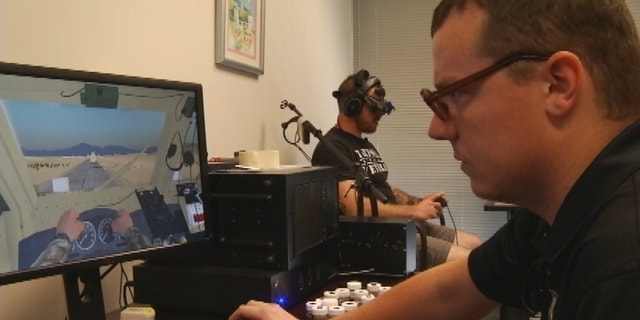 Prolonged exposure therapy is a common form of treatment for post-traumatic stress disorder (PTSD) in U.S. veterans and active-duty soldiers, but researchers in central Florida are taking the approach to a new level with virtual reality (VR).
Iraq War veteran Bruce Chambers, who was one of the first patients to go through the three-week program at the University of Central Florida (UCF), said the therapy has reduced his paranoia, and made him a better father and husband, Fox 35 Orlando reported.
"It changed my life," Chambers told the news station, "and if it can change my life, it can change another soldier's life."
Called the UCF Restores program, the regimen guides patients through group and virtual reality therapy, and, like, prolonged exposure therapy, places the veterans back into the traumatic experiences that triggered their PTSD. Symptoms of PTSD include flashbacks, nightmares, depression, an increased risk of suicide, hyperarousal, according to the Department of Veterans Affairs (VA).
Dr. Deborah Beidel, founder of UCF Restores, described the program as "intense," but "the advantage is that we can really take care of this disorder, and treat this disorder thoroughly and effectively in a short period of time," she told Fox 35.
The therapy aims not to erase veterans' traumatic memories but to eliminate the stress that accompanies those thoughts. Beidel's research suggests 66 percent of patients find success with the program, Fox 35 reported.
With virtual reality, Chambers relived the PTSD-inducing moment when he hit a 400-pound improvised explosive device (IED), was knocked unconscious and got ambushed during a 15-month tour in Iraq. As he sat in a chair that shook him to simulate the explosion, familiar smells from the day— like car exhaust and burning flesh— were also replicated. He relived the moment repeatedly until his anxiety diminished, Fox 35 reported.
"I think other people need to hear about this because it's changing lives," Chambers told the news station.