Proud parents show off sextuplets in adorable photo shoot
An Alabama couple who was shocked last year when they found out they were expecting sextuplets is now showing the world just how joyful they are with their latest additions.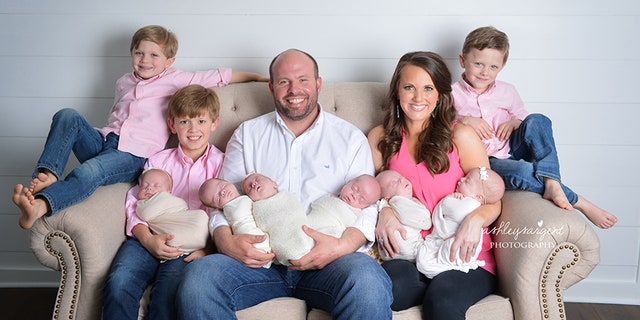 Courtney and Eric Waldrop welcomed six new babies on December 11, born under 30 weeks' gestation.
During an adorable photo shoot with Ashley Sargent Photography, the six newborns ─ three boys and three girls ─ are shown dressed in different colors of the rainbow, taking naps, and being held by their three older brothers, Saylor, Wales and Bridge.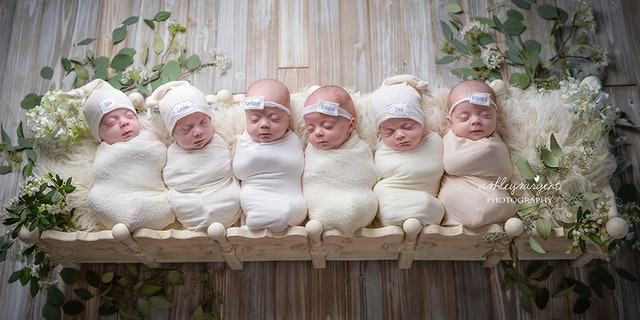 MOM OF 3 SHOCKED TO LEARN SHE'S EXPECTING SEXTUPLETS
According to a report in People, the Waldrops said, "It's an amazingly joyful feeling to have all six babies at home with us. Our lives have been forever changed," the couple said shortly after the birth of their six babies.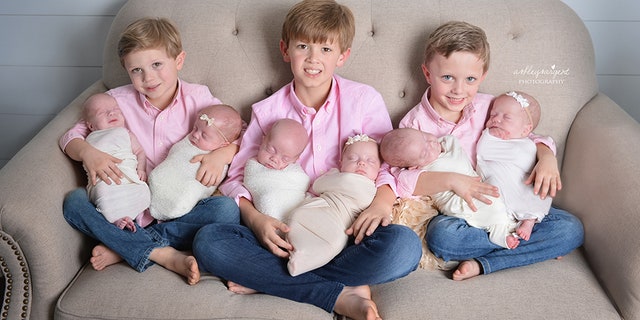 "We are blessed beyond words and so excited to get life started with these sweet little miracles from above."
Having a large family was always the goal for the Waldrops, so they turned to fertility treament and were surprised when they got the news in August.
"I was scared to death," Courtney told People of finding out she was pregnant with the sextuplets. "I'm a smaller framed girl, and my first thoughts were on how I was going to successfully get six kids here without something happening to them or me. There was a lot of fear. We didn't know what to do or think."
MOTHER WHO HAD THE NATION'S FIRST SEPTUPLETS DIES AT 63
The most common complication of multiple pregnancy is premature birth, according to The American College of Obstetrics and Gynecology which cites that babies born "before 32 weeks of pregnancy can die or have severe health problems, even with the best of care."
People magazine reported that doctors mentioned they could perform a procedure called "selective reduction," which reduces the number of fetuses, but the Waldrops were against it.
"We are strong in our faith, but you never know how you're going to feel when you're actually in those shoes," she said. "When we let it go and turned it all over to [God], those fears ─ though we know the risks are still there ─ were lifted from us."
The Waldrop babies born on December 11 were named, Rivers, Rayne, Rawlings, Blu, Tag and Layke.