Pearl Jam guitarist shares his personal struggle with Crohn's disease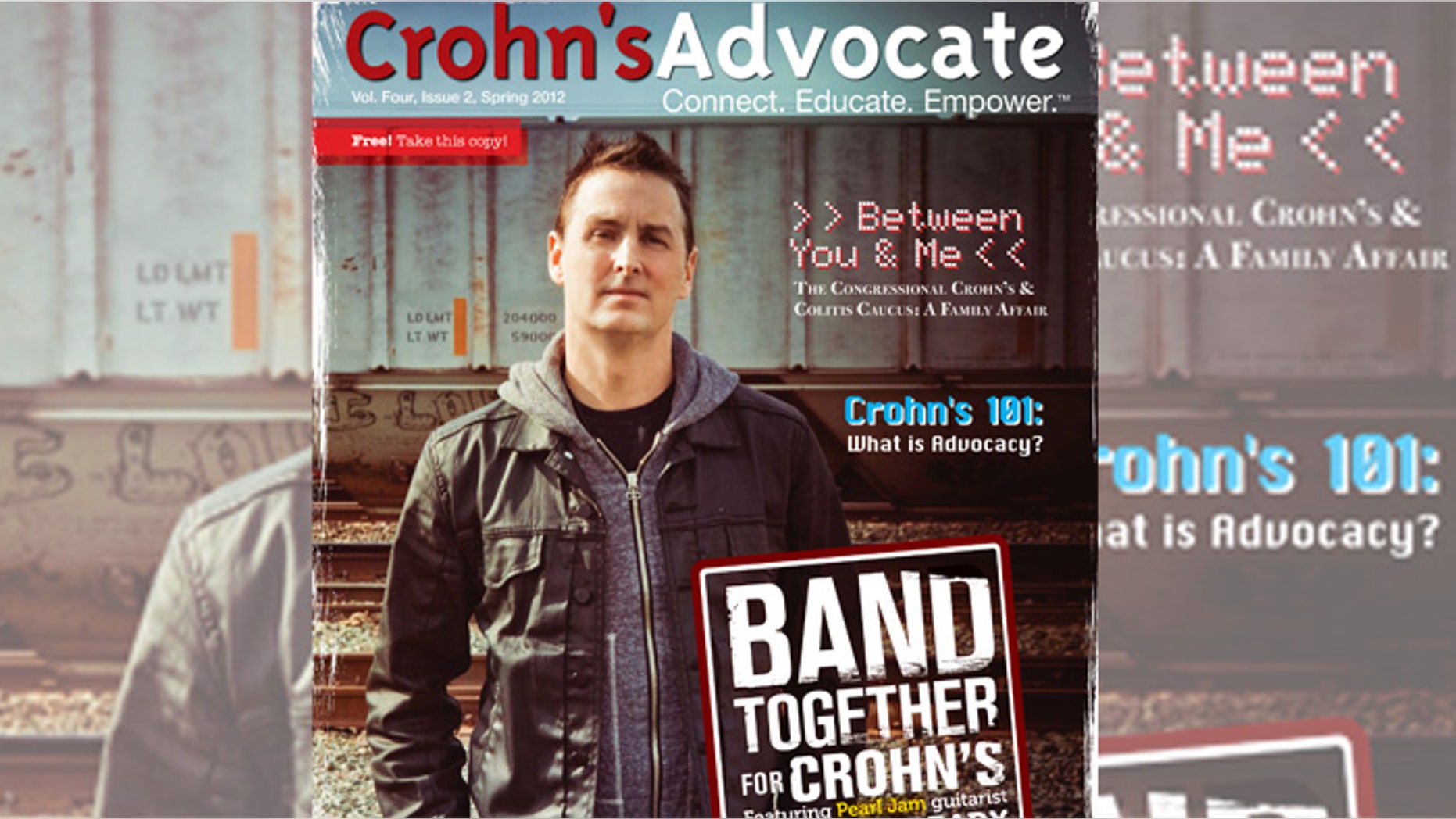 To the world, Mike McCready is the rock star made famous by playing lead guitar in the band Pearl Jam, a dream gig to anyone aspiring to the 'big time.'  However, while McCready's life may seem like nothing but glitz and glamour, the musician has secretly struggled with a very personal and challenging disorder for over 25 years.
"[It first started] when I was 21 years old," McCready told FoxNews.com. "I had just dropped out of college, and I was in Los Angeles, trying to make it in a band called 'Shadow.'  One night I was having dinner with the guys, and all of a sudden I had extreme abdominal pain.  At first I thought it was food poisoning, but then there was a bunch of blood and mucus – and it kept happening for months."
It took McCready several years to officially be diagnosed with Crohn's disease – a condition that causes periodic inflammation of the gastrointestinal (GI) tract.  While most people with Crohn's experience inflammation in the intestines, the disease can affect anywhere from the mouth to the rectum.
"People can develop ulcers in the lip area, but most people have inflammation of the small bowel and large intestine," Dr. Bethany Devito, a gastroenterologist at North Shore University Hospital in Manhasset, NY, told FoxNews.com.  "The intestines become raw, and they develop symptoms for many years – such as stomach pains, weakness, some may have nausea or vomiting, some may have diarrhea and fever."
Crohn's disease is considered an autoimmune disorder, meaning the adverse effects of the condition are a result of the body's immune system mistakenly attacking the GI tract.  Because it is a chronic disease, those living with Crohn's experience symptom 'flare-ups' periodically throughout the course of their lives.
According to McCready, this means daily life can quickly become an embarrassing struggle.
"You always have to know where a bathroom is," McCready said.  "There's a level of anxiety and depression with that, along with shame, anger and fear.  Sometimes you might [just go], and you can't do anything about it, because it's completely painful, and you have to go in two to three seconds. Psychologically, it can be quite damaging in terms of going out in public or going on a date."
Not only did McCready have to adjust to living with the disease day-to-day, but he soon had the added difficulty of possibly dealing with his symptoms in front of the eyes of millions of people.  When he was 25 years old, McCready helped to form the band Pearl Jam in 1990, and after recording their debut album, Ten, just one year later, the band was launched into mainstream success.
It didn't take long for the band to start playing sold-out live shows and touring the world – making McCready's embarrassing condition much more stressful and more difficult to hide.
"It's been a huge challenge.  I don't know where the bathrooms are in Sweden or in Bulgaria, or wherever I'm at when we're playing," McCready said.  "It's hard to know where that is.  You have to take chances and try to eat food that won't set it off, but you never know what will set it off.  It can be very nerve wracking; I've had a lot of anxiety and still do sometimes."
McCready recalled several times during live performances when he experienced Crohn's flare-ups while playing songs, saying he had to deal with the situations as best he could.
"Last time it happened was in New Zealand," McCready said. "It was three years, we were playing to 46,000 people and then all of a sudden I had to go.  I somehow held it in, but I've had big accidents on stages.  There have been some other cases where they have to come clean it up.  If there's a break in the song, I can run off stage.  It's a big mess, but you clean up and go back out."
"The show must go on," McCready added.  "The guys are pretty receptive, and they know I've been struggling."
While McCready's situation may seem more embarrassing than most, he maintains that he has a great life and his situation could be much, much worse.  Now, after fighting to keep his condition a secret for almost two decades, McCready has come public with his story in the latest issue of Crohn's Advocate magazine in order to help others with Crohn's feel more confident and connected to others just like them.
In order to raise money for the Crohn's and Colitis Foundation of America, McCready plays in the foundation's annual benefit concert in the UFO tribute band Flight to Mars.  Because Crohn's disease is often diagnosed in teenagers and young adults, the band also helps raise funds the Crohn's and Colitis Foundation of America's Camp Oasis - a camp program for kids living with Crohn's.
McCready ultimately wants to send a message to kids and adults alike that Crohn's does not control them.
"Just know that I have your back," McCready said.  "You can use me as an example to know that you can follow your dreams.  Crohn's doesn't define who you are.  You are a human being, you are special and a great addition to society.  Crohn's is just a part of your life.  Try to be positive and pro active - therein lies the solution."
To learn more about McCready's story, visit www.CrohnsandMe.com.