Paralyzed college soccer star finds new sport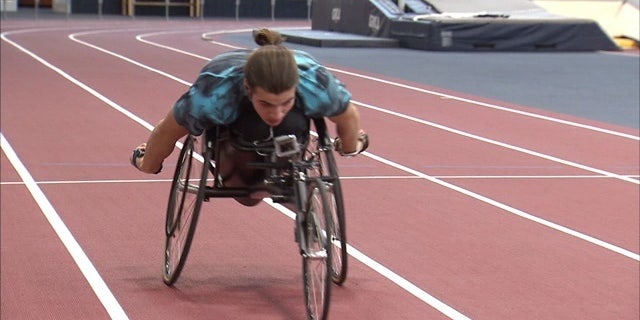 In 2014, Brett Gravatt scored the only goal for Penn State in a NCAA soccer tournament game. Months later, he was paralyzed in a snowboarding accident. Now, the athlete is making his mark in a new sport— wheelchair racing.
Just nine months after leaving the Atlanta's Shepard Center for rehabilitation, Gravatt, 20, is ranked 22nd in the world in wheelchair racing, Fox29 reported.
The rising star for the Nittany Lions was permanently paralyzed from the chest down in the accident after fracturing a thoracic vertebrae, The Washington Post reported.
"I just remember spending a lot of time in the hospital, and was just like, I have two choices here. I mean this is my life," Gravatt told Fox29. "I didn't see any other option, it was like, I have a choice to be miserable or not."
At Penn State, Gravatt works with former Olympian Teri Jordan, who runs the school's Ability Athletic Program.
"I think it's just an inner drive. You don't get that. Either you got it, or you don't. He wants to be the best, no matter what sport it is," Jordan told Fox29.
Gravatt told Fox29 he lives his daily life by the expression, "Do what you can, where you are, with what you have."
"Teddy Roosevelt said that," he told the news station. "I just saw that, and it felt like it hit me, and I related to it."
Gravatt hopes to compete in the Chicago, New York and Boston marathons this year.