Octogenarian couple finishes final marathon holding hands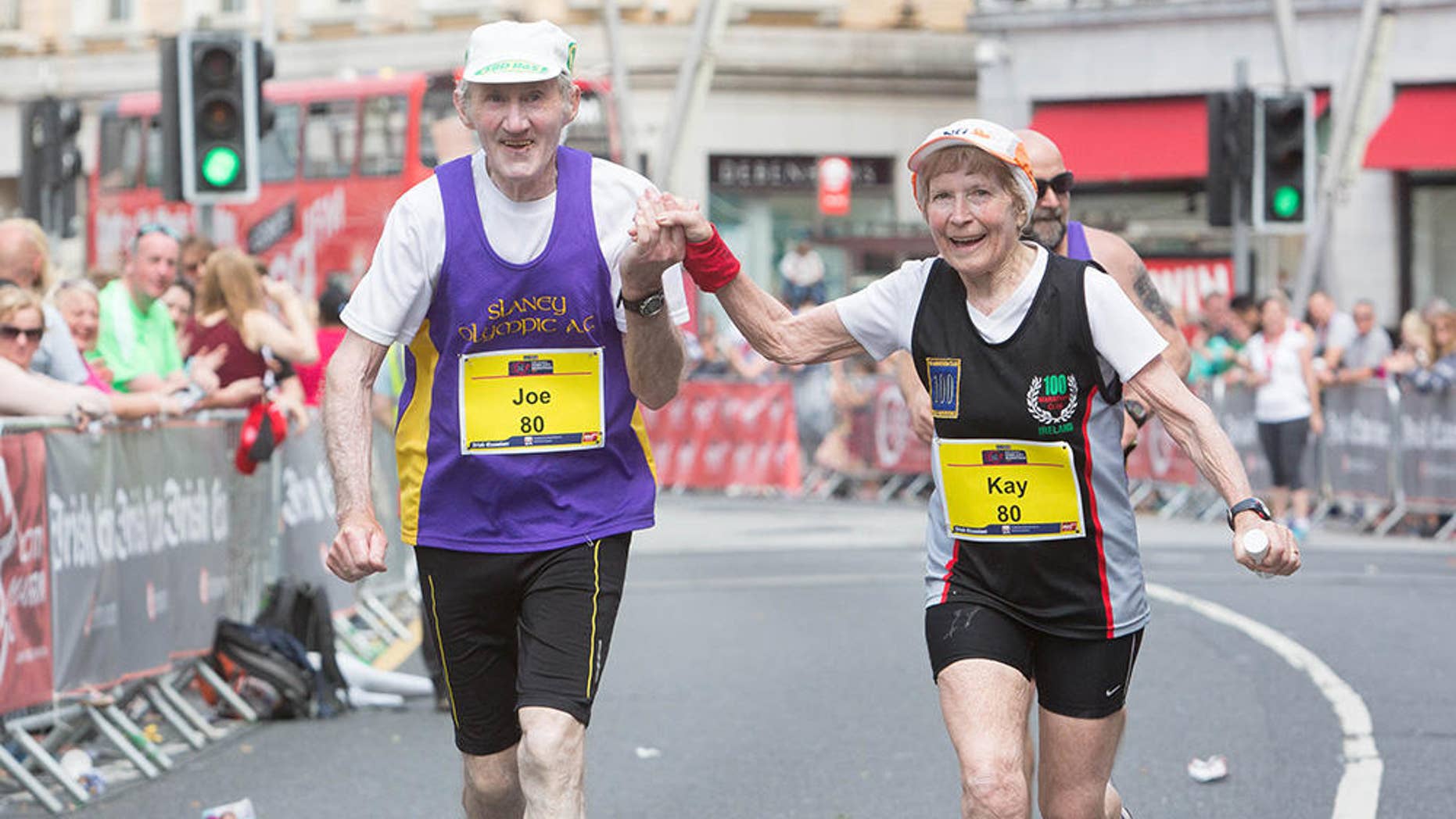 Kay and Joe O'Regan have finished dozens of races around the world: from Boston to Athens to Berlin to the northern tip of Norway in the midnight sun.
But they've only finished two marathons while holding hands. At the 1986 London Marathon they laced fingers as a race photographer took their photo under the finish clock. They were both 50 years old, and it was their first marathon.
At the 2016 Cork City Marathon in southern Ireland on June 6, again Joe grabbed Kay's hand. This time it was more than a half-mile from the finish line, and he held it the rest of the race. At 80 years old, Kay completed her 113th marathon while Joe finished his 29th. They promised each other it would be their last, a final 26.2 jaunt to celebrate their 57th wedding anniversary.
More from Runner's World: 96 Year Old Gets Faster at Mount Washington Road Race
"We are kind of surprised you are interested in our run over here," Joe told Runner's World over the phone. Kay was on the other line in a different room of their home on the outskirts of Enniscorthy, Ireland—a town of 10,000 on the west side of the country with a castle and a river. "We aren't special or extraordinary, as far as we are concerned running is just something we do," Joe said.
They finished the Cork City Marathon in 5:25:29, each winning their age group.
Over the phone, Joe was eager to list his wife's accomplishments. Kay has won the Irish national marathon championships in the 60, 65, 70, and 75-year-old age division. He added that her performance at the Cork City Marathon makes her the fastest 80-year-old female in the U.K.
TRAINING PLANS: Find a Runner's World marathon plan to run your first, or fastest, 26.2.
By running standards, the duo discovered the sport late in life. At 49, Kay wanted to do something big to celebrate her and Joe's 50th birthdays, which are three weeks apart. So, she signed them up for the London Marathon in 1986.
They had already been married for 27 years with two adult children, but Joe agreed to join his wife in her newfound interest. After they both retired in the late 1990s, they began traveling around the world to complete races. In 1997 they moved to Enniscorthy where they hoped to join a running club.
"We live on the outside of town and our neighbors had never seen people running on roads," Joe said. "I suppose a lot of people thought we were mad."
More from Runner's World: How to Make Yourself Poop
Now, they are leading members in the local Slaney Olympic running club, which has grown to 160 runners. Many showed up to support the O'Regans during their last marathon.
"We had lots of friends on the course, and when I felt like I was slacking they provided a bit of a lift," Joe said.
Joe also got a lift when he grabbed his wife's hand. "He seemed to get a second wind there," Kay said. "We raced up to the finish, really. We were able to sprint."
ALSO SEE: 16 quirky runner types. Which are you?
The Cork City Marathon honored them by providing the same bib number—80—before the race. When they crossed the finish line, Joe said it felt like they were being mobbed by the paparazzi.
Though he can't quite understand what all the fuss is about, he finally conceded that two 80-year-olds finishing 26.2 miles together is rare.
"The thing is, I may look like I am 80 but I don't feel like it," he said.
More from Runner's World: Summer Produce for Health and Performance
A few weeks before the race, Joe researched the Guinness World Record for the oldest couple to complete a marathon. They missed the mark by just over 250 days. He said they will be eligible on November 5, perfect timing for the New York City Marathon on November 6. The "retired" marathoner was hesitant to make any plans.
"Never say never," he said.
Kay also had no plans to finish another 26.2, but said she is looking forward to getting back on the road with her husband.
"Running is a part of our lives. And it hopefully will be for a few more years," she said. "In Ireland there is a saying: those who pray together stay together. Well we say, those who run together stay together."