New York boy with rare condition makes plea to help find lost dog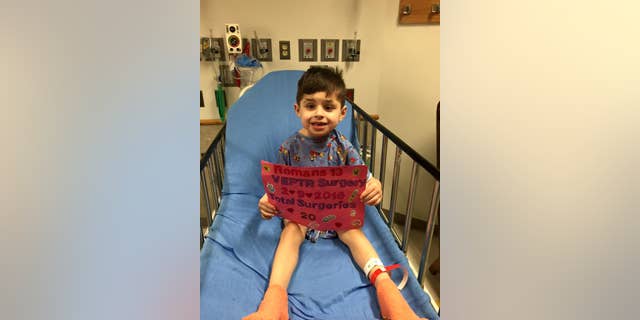 NEWYou can now listen to Fox News articles!
A young New York boy born with a rare tumor is looking for his best friend, his dog Charlie, who went missing in early February.
Roman Ducalo, 5, of Staten Island, was born with a mesenchymal chest wall hamartoma, a condition that causes tumors to grow from the affected individual's bone.
"They run havoc on the system and in really bad places," his mother, Lauren Ducalo, told NBC New York.
When doctors operated to remove the tumor, they had to remove several ribs, which caused Roman to develop thoracic insufficiency syndrome, and he can no longer support normal breathing or lung growth. According to the family's website, Baby Roman Little Warrior, by the time he was 20 months old, Roman endured nine surgeries and became dependent on a ventilator. He recently had his 20th surgery and has titanium ribs, as well as rods in his back.
On Feb. 5, the family posted on Facebook that dog Charlie went missing. In mere months, Charlie helped Roman do things his mother never imagined, NBC New York reported.
"It's just him playing and being like a regular, normal little boy," Lauren told the news channel. "Rolling over, he's playing with the dog, crawling after him, running after him."
The family is pleading for the dog's return and is offering a $1,000 reward.
"I love him a lot. I hope he doesn't get stuck in the woods," Roman told NBC New York.