8-year-old girl battling rare brain cancer receives support from across nation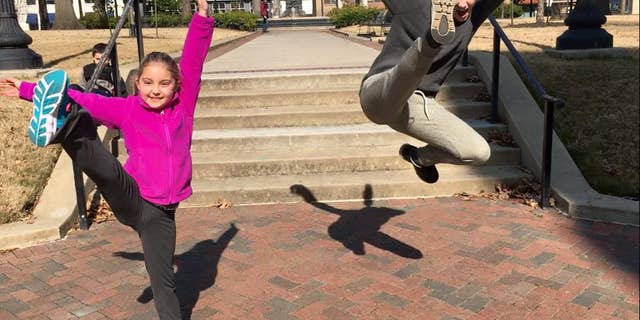 NEWYou can now listen to Fox News articles!
An 8-year-old girl who bravely told the world about her aggressive brain tumor in a video posted on YouTube has garnered support from strangers across the country. Parker Monhollon, from Silver Lake, Kansas, was diagnosed with diffuse intrinsic pontine glioma (DIPG), the same cancer that college basketball player Lauren Hill battled before she died last April.
Monhollon's parents, Danny and Amanda, noticed something was amiss shortly before Christmas when their daughter's eye looked like it was straying toward her nose, the Star-Telegram reported. An MRI confirmed it was a brain tumor.
"I just got done with MRI. They said I have a brain tumor," Monhollon told viewers in the video. "And it's something that's on your brain. And it's called tumors. And they get bigger and bigger. So you have to take these pills."
Since the video was posted January 16, the Silver Lake community and neighboring towns have rallied around the family to host fundraisers in their honor, the newspaper reported. Youth sports clubs and schools have also taken donations for the family. The hashtag #ParkerLovesLife is being used to help spread her story.
Monhollon, who loves to dance, has received support from dance studios as well as high school and college dance teams in the form of tribute videos, the newspaper reported. Kansas City Royals pitcher Chris Young posted a special message to his young fan to let her know he was thinking about her.
She thanks her supporters in videos posted to a Facebook page called "Parker Loves Life" which was set up in her honor.
Monhollon is currently undergoing radiation treatment at St. Jude Children's Research Hospital, and is a candidate for clinical trials at several other hospitals, the Star-Telegram reported. Her grandfather told the newspaper that the cancer has been "nothing short of a nightmare" for the family.
"The outpouring of love and support they've received – from family, classmates, friends and total strangers – is inspiring and a source of strength and comfort. It allows for both Danny and Amanda to be with Parker during her treatment," Rusty Monhollon told the newspaper.
"It also helps big sister Rivers and little brother Dominic have some semblance of normalcy while their parents and sister are away," he said.
In addition to keeping supporters up to date with her treatments, Monhollon also has a to-do list she'd like to accomplish, the newspaper reported. Among the tasks are a meeting with dancer Kaycee Rice, an appearance on "The Ellen DeGeneres Show," swimming with dolphins and going on a real date.