Massachusetts woman delivers surprise baby boy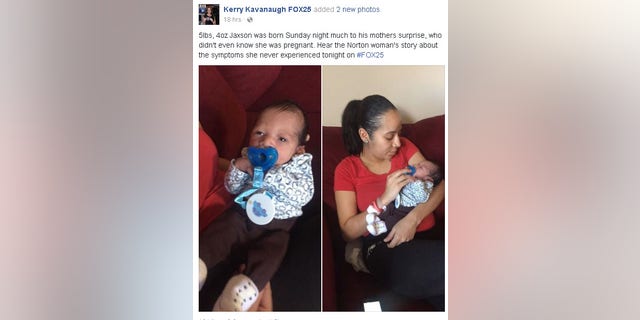 On Sunday, Ileana Martinez went to the hospital for severe stomach cramps and, much to her surprise, left a new mom.
When she arrived at the hospital, the Norton, Massachusetts, woman underwent an ultrasound, which revealed she was 15 weeks pregnant, Fox 25 reported. Then, a second ultrasound led to an even bigger surprise.
"I get admitted to labor and delivery and she's like 'Oh yeah, so you're actually around 36 to 38 weeks.' Right when she finished the sentence, my water just broke," Martinez told the news channel.
The 23-year-old's son arrived shortly after that and his dad came to the hospital, needing to see his son to believe it. Martinez named the boy Jaxson Kenny Jean-Pierre. He weighed 5 pounds, 4 ounces.
Martinez told the news channel that she didn't have any signs of pregnancy; she was on birth control, getting her menstrual cycle and gained around 5 pounds.
"I'm guessing he was tucked under a rib," Martinez told Fox 25.
Though Jaxson is small, he's healthy. Martinez said her son was a blessing and called the experience, "surreal."