Indiana mom recalls 'freak' farming accident that left her without an arm and leg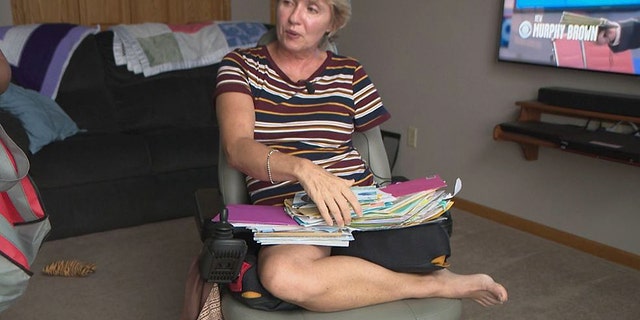 An Indiana woman who lost an arm and leg in a "freak" farming accident last month is thanking supporters and family members who aided in her recovery.
Laurie Hayn was walking through a part of a cornfield — traveling in a direction she believed to be the opposite Ronald Hayne, who was driving a combine at the time — on Sept. 18 when she found herself caught in the harvesting vehicle. The 54-year-old had to be extricated from the combine and was flown to a nearby hospital, WNDU reported at the time.
"It was [the] second day into harvest," Hayn recently recalled to WSBT.
Hayn, a mother of two and avid hiker with plans to complete a 134-mile trek in Ireland next year, said she didn't feel pain during the accident, despite the severity of her injuries.
SALMONELLA OUTBREAK LINKED TO RAW CHICKEN SICKENS 92 IN 29 STATES
"I wasn't worried at all," she told WSBT. "I kept telling my brother-in-law and husband out there, 'I'm fine, I'm going to be fine. You know what they can do with prosthetics these days? I'm going to be fine.'"
Hayn is getting around at home thanks to a loaned motorized wheelchair. She said her community has come together to donate food, gift cards and offer prayers as she continues to recover. The Marshall County Farm Bureau has been keeping the farming community informed about fundraisers and Hayn's health via Facebook.
RUNNER PRAISED FOR HELPING LEGALLY BLIND COMPETITOR WHO FELL
"How could I not do good when I have so many prayers out there?" she told WSBT. "My brother-in-law one time told me, 'I hope everything goes smoothly.' I said, 'How can it not?' I've got a million people praying for me.'"
Hayn returned home in early October and will receive prosthetics in the coming months. She credits her strong support system for giving her the courage to keep moving forward.