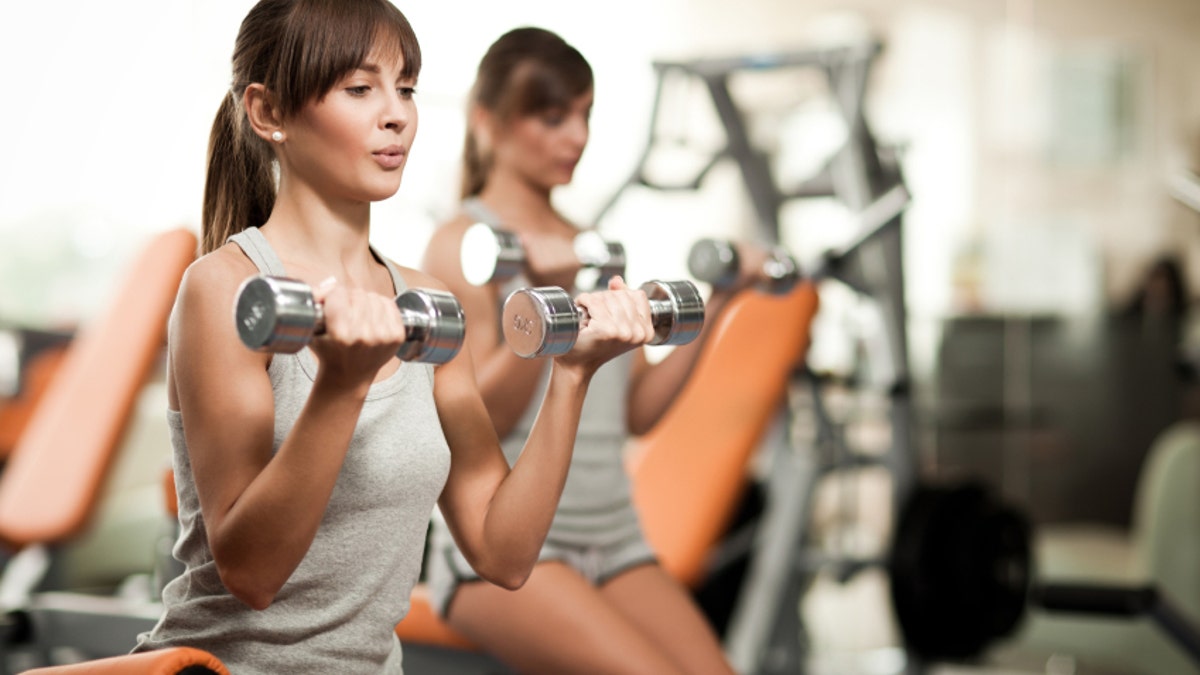 A few key pieces (starting at just $8) will give you a full-body workout at home.
For Small Spaces
These items can transform even the area between your TV and coffee table into a fully functional gym. Stash them in a closet or a bin under the bed when you've finished your workout.
Resistance Tubing
"Tubes are a compact alternative to weights," said Brooke Marrone, a personal trainer in New York City, so you can use them for full-body strength training. They come in different resistance levels. For about $30, you can get a set containing weights that are light (for when you're just starting), medium (for upper- and lower-body work), and heavy (for more intense lower-body training).

Tip: Look for padded handles to ensure proper grip, which will help you to maintain good form.
Related: The 20-Minute Workout
Jump Rope
Inexpensive (about $8) and lightweight, a jump rope is one of the easiest tools for high-intensity cardio.
"Jump for 30 seconds or more in between sets of upper- and lower-body resistance work," Marrone said.
Bonus: Circuit training burns extra calories.
Yoga Mat
The slightly sticky surface keeps you stable during stretching and core-strengthening moves, such as planks.
"If you're slipping on a carpet, you end up gripping with the wrong muscles to stay balanced," Marrone said, and this can lead to injury.
Mats start at about $15.
Related: Low-Calorie Snacks for Every Craving
DVDs
If you need a motivation boost or are looking for new routines, try a workout DVD ($10 to $30 each).
"You get to exercise with a top trainer for 30 to 60 minutes right in your home," Marrone said.
You can also expand your repertoire of moves (and hit more muscles) if you check out a new DVD every week or two. Marrone's favorites include Physique 57 and The Biggest Loser Workout for cardio and interval-training exercises, as well as offerings from trainers Tracy Anderson and Gunnar Peterson. Browse online or in bookstores, or hit up your local library.
For Big Spaces
Outfitting a larger home gym can be costly on the front end (more than $2,000), but if you have room and cash to spare, you'll save money over time. (Bye-bye, monthly dues.)
Recumbent Bike
Or treadmill. Or any other piece of cardio equipment you like to use. (Compliance is half the battle!) Head to a specialty fitness store, like Gym Source, where you can pick your perfect model—important, since you'll be spending a chunk of change. (Gym-quality treadmills start at about $2,500.)
Whichever piece you choose, be sure it has a sturdy steel frame and can be adjusted (seat height, incline, and so on) to maximize comfort. Extras, like a heart-rate display, are nice but not necessary.
Related: How to Feel Better Every Day
Set of Dumbbells
"Dumbbells give your workouts variety," said Rachel Cosgrove, author of The Female Body Breakthrough. And they can also challenge your muscles more than gym machines do because you have to stabilize yourself to lift them. Start with a basic range—say, a set of 5-, 8-, 10-, and 15-pound dumbbells (sets cost about $5 per pound). Increase the weight as you get stronger.
Weight Bench
To get even more mileage out of your dumbbells, invest in an adjustable weight bench (about $125).
"By lying on the bench to do exercises like chest presses and flyes, you'll have a greater range of motion and get a better workout than you could lying on the floor," said Amber O'Neal, a personal trainer in Atlanta.
Desirable add-on features include a rack below to store weights, a barbell, and a leg-curl attachment.
Stability Ball
For improving balance, flexibility, and strength while working multiple muscle groups, this blow-up wonder (about $25) can't be beat.
"Your core is engaged with every exercise you do on it," said O'Neal, including crunches, biceps curls, and incline push-ups. A 65-centimenter ball is right for most people; go with 55 if you're short, 75 if you're very tall.