How running helped them lose 180 pounds-and brought this couple closer together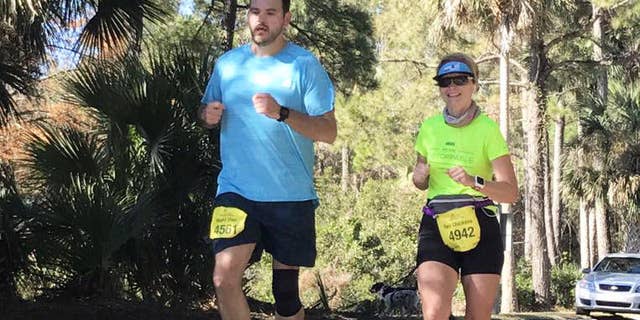 Melissa Palmer remembers the struggle she and her husband Justin Ellis faced as soon-to-be newlyweds in late 2014, trying to find clothes that would fit him. They took trips to five different stores in search of a vest, and ended up having to have one custom ordered.
At 330 pounds, Justin was bordering on morbidly obese. He wore size 46 pants and took four different medications to manage a Rolodex of health issues: diabetes, high blood pressure and a high triglyceride count among others. He ate unhealthily and rarely exercised. Melissa, on the other hand, was an avid runner and triathlete. She ate well and kept track of her BMI. But she understood Justin's troubles.
Both Melissa, 41, and Justin, 36, had struggled with weight from a young age. Melissa's troubles only increased as a student at the University of South Carolina. By 2001, she weighed more than 230 pounds. She made valiant efforts to lose weight, dropping nearly 100 pounds at one point, but in 2005, back surgery derailed her fitness efforts and the scale crept back up over 200.
In 2009, Melissa began walking and watching her diet again. The feel-good effects from those small changes encouraged her to join a couch to 5K program—and sign up for an actual 5K race to cement her commitment. By the time the race rolled around in October 2009, she was down to 180 pounds.
Ready to Start Running? Check out the Runner's World Starting Line
"I always thought running was something I could never do," she recalls. "But something inside of me clicked after that first 5K. I thought, 'Ok, I can do this.'" She began racking up the miles and within a year dropped another 40 pounds and completed her first half marathon, the Governor's Cup in Columbia, South Carolina.
Crossing that finish line made her finally consider herself a runner. "It's like anything in life: you just start," says Melissa. "Once I ran four miles, I wondered what it would feel like to run five. And every time I ran, I just wanted to run more." To date, she's completed 35 races.
Conquering the Challenges
Justin watched Melissa's transformation, first as a friend and then as a romantic partner. He was proud of her accomplishments, but did not feel inspired himself. "I was a little too young naïve, and cocky to let that motivate me," he says.
"He's a very stubborn person," Melissa laughs. "So while I would encourage him to eat healthier and move more, it would go in one ear and out the other."
Still, she continued her fitness journey. In 2013 she competed in a duathlon—biking and running—then finished her first triathlon in 2014.
"I never thought I'd get into triathlons because I really hate swimming," Melissa explains. During that first sprint race, she could only swim backstroke and was the second-to-last person out of the water. "It was embarrassing. But because I'm really competitive with myself, learning how to swim better became another challenge," she says. With the help of a local sports coach, she tackled this next hurdle, spending hours in the pool correcting her technique and actively working against her deep-seated aversion to water.
Related: I Was Terrified of Swimming—So I Signed up for an Ironman
This past June, she completed the Eagleman Half Ironman in Cambridge, Maryland. "It was insanely hot," she recalls. "Afterwards, I could barely stand, I was so dehydrated." As for the swim portion: "There are pictures of me on my bike literally crying because I'm so happy that I'm out of the water."
The Snowball Effect
In 2013, around the time Melissa began getting in the pool, Justin figured he'd finally give running a shot. He signed up for a 5K training group. At the time, he weighed 310 pounds. But he hated the experience and set aside his sneakers as soon as he crossed the finish line. "The 5K was finished, the group was finished, and I pretty much cashed my chips in and was done," he laughs.
But, while Justin felt he was done with running, it seems running wasn't done with him. His moment of metamorphosis arrived on January 25, 2015. Tipping the scale at 330 pounds—his heaviest to date, "I somehow got motivated to at least change my diet," explains Justin.
He quit junk food "cold turkey," and swapped his usual fast food meals and processed snacks for a vegetarian—then vegan—diet. He also eliminated alcohol.
Related: My First 14 Days as a Vegetarian
Within six months, Justin was down 20 pounds and became inspired to start exercising. Melissa supported his efforts by becoming vegetarian herself. That, coupled with the triathlon training, helped her shed another 15 pounds.
Justin began frequenting the gym, where he'd walk on the treadmill and lift weights. "After a few months at the gym, I told myself 'if you can walk on this treadmill, you can run on this treadmill,'" he recalls.
After he'd been exercising consistently for five months, he tackled another hurdle: running outside. With Melissa beside him, he conquered a five miler. "As silly as it sounds, I felt like a champion," he recalls. "And that's what started it. I got hooked."
That first 5K in 2013? He clocked in around 37 minutes. Today, he's able to run five miles in under 40 minutes.
"During both my teenage and adult life, I never thought running would be something I'd be passionate about," he says. "Now, if I don't do a long run on Saturday morning, I'll act like the whole week was wrong."
"He was a big video gamer so he would just sit and play his games and that was his activity," recalls Melissa. "And to see him transform and be able to run—and still enjoy the video games, because you don't have to give everything up to be healthy—it's been really inspiring."
Today, Justin wears a size 36 in pants and no longer takes medications. Checkups end with his doctor saying: "Keep doing whatever it is that you're doing."
Justin acknowledges that his wellness journey has taught him a lot about himself—and Melissa. For years "I never realized how hard she was working. I'd see her training and I knew running was difficult, but she'd go out on a 15 to 18 mile run and I'd say 'Oh yeah, I bet that was hard.' But until I did it myself I didn't fully appreciate it. Now, I like to think that we motivate each other."
Melissa agrees. "Once I saw him start to run more, I was like, "I need to up my game," she laughs, which is how the two signed up for the 2016 Kiawah Marathon together. It was Melissa's first marathon in four years, and Justin's first marathon ever. They crossed the finish line side by side, a symbolic moment that both describe as "very special."
Lessons Learned
Justin's biggest piece of advice to others looking to achieve similar goals: pace yourself. "Know that it's not a magical weight loss pill like they try to sell you on TV," he says. "You've got to put work in. And once you realize that, you can accomplish your goals."
Melissa echoes the sentiment, adding a simple message: "Just start. Start wherever you can, and don't be embarrassed."
Nowadays, the duo runs together every Saturday morning, weaving through Columbia with about fifty other runners.
"It's been a joy to see him find a passion for something that I've been passionate about for so many years," says Melissa. "I've just enjoyed seeing him transform into this different person that I never thought I would see. My friends and I always laugh because he was always the dependable guy who would always eat with you. Now, I think he eats healthier than I do."
The couple's fitness journey continues in 2017 with even loftier goals: Melissa is signed up for the Chattanooga Half Ironman in May and the Chattanooga Full Ironman in September, and Justin has his sights set on an ultra-race. These longer distance races mean they'll enjoy many more training runs together in between.
"I love being able to run now for myself, but I also see the joy that Melissa gets from seeing me out there," explains Justin. "Now that we're out there together doing it, it's just another great thing we can share."
Original article appeared here.