Golden retriever quells youngsters' fears at Illinois dentist's office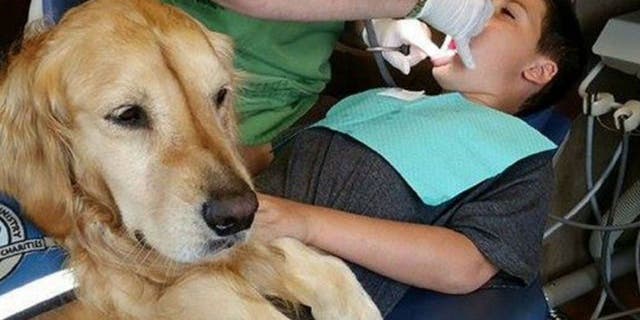 Few youngsters enjoy going to the dentist, but a friendly golden retriever is making their visits at a Northbrook, Illinois, office, a whole lot less stressful.
JoJo, a 6-year-old trained comfort dog, helps soothe frightened young patients at the Pediatric Dentistry of Northbrook, My Fox Boston reported.
"It's stressful on parents too," Lynne Ryan, JoJo's handler, told the "Today" show. "One mom just sat back and melted with this dog in her arms while the doctor and assistant took care of her child."
"JoJo has a real sixth sense of who needs her, so we'll walk into a room and sometimes she'll [make a] beeline to somebody else," she added.
Ryan said JoJo's service may also lower dental costs for families, as the pooch's calming demeanor sometimes reduces the need for additional medication.
"A lot of the time, those patients would need nitrous oxide or other sedative to help them relax," clinic staffer Veronica Renteria told The Dodo. "But when JoJo comes in with them and sits in the chair, they're comforted. They can just sit and pet her as they're getting their teeth cleaned. She does a great job with them."