Giants star teams up with NFL, dairy council to tackle childhood obesity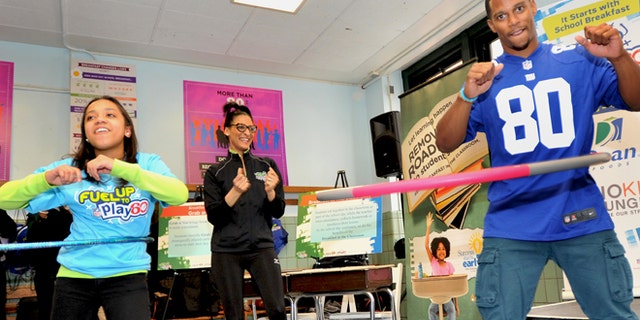 NEWYou can now listen to Fox News articles!
Super Bowl champion Victor Cruz is teaming up with the NFL and the National Dairy Council (NDC) to tackle childhood obesity.
The latest installation of the NFL's Fuel Up to Play 60 campaign, called 'For the Love of Play,' is designed to inspire participants to fit 60 minutes of play into their daily routine.
The program also encourages its 14 million student participants to consume nutrient-rich, low-fat foods in their diet, in addition to finding ways to stay active.
For the New York Giants wide receiver, becoming an ambassador to the program was an easy choice.
"It was something that spoke to me and spoke to my childhood," Cruz told FoxNews.com. "As a kid that grew up on a one-way street with seven boys around my age, we all played outside all of the time so it was something that was right up my alley."
Childhood obesity has more than doubled in the past 30 years, according to the Centers for Disease Control and Prevention (CDC).
The CDC reports obese youth are more likely to be at risk for cardiovascular disease, high cholesterol or high blood pressure. Obesity may also cause bone and joint problems and lead to poor self-esteem.
"We know that kids are our future, so helping them live healthy lives and establish good habits that last a lifetime is essential to set them up for success," Jean Ragalie-Carr, president of the National Dairy Council told FoxNews.com.
"Fuel Up to Play 60's new campaign, For the Love of Play, empowers students to get moving through active play. Whether it's flag football, active breaks with physical activity at school or a game of tag in the backyard, physical activity can be fun and easy – it doesn't have to be a chore," Ragalie-Carr said.
Originally launched in 1997, NFL's Play 60 has undergone many makeovers to keep up with ever-changing youth interests. The latest initiative includes social media outreach, such as sharing 'breakfast selfies,' which Cruz says is popular with his following.
"They definitely interact with me on Twitter all the time," Cruz said, adding that he fields questions ranging from how he prepares for a game to what he includes in his daily routine.
"I try to tell them in the morning for the early 1'oclock games to 'stay healthy, scrambled eggs and omelets keep me healthy and keep my mind sharp for the game,'" Cruz said.
Since the launch of Fuel Up to Play 60, more than 1,200 NFL players have participated in the program through school events, marketing efforts and social media.
More than 73,000 schools have signed up to participate in the program, which by CDC guidelines, is imperative for childhood obesity prevention.
According to the CDC, schools play a critical role by establishing a safe and supportive environment that supports healthy behaviors. Schools also provide a means for students to learn about healthy eating and physical activity.
"NDC brings the nutrition know-how while the NFL reaches a vast audience with unmatched star power to truly impact students and parents," Ragalie-Carr said of the partnership.
As far as advice Cruz gives to students about staying healthy and positive, he tells them to stay focused.
"There's going to be ups and downs, but stay focused and you'll get through any obstacle that you think you can't get over," he said.