Georgia family hopes son's first Christmas brings him a new heart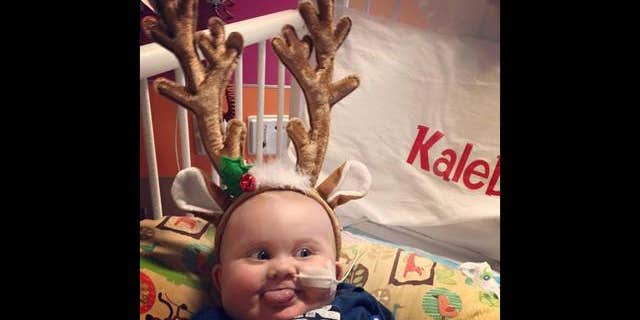 A Georgia family is hoping this Christmas will bring their 5-month-old son a gift that he desperately needs: a new heart.

Kaleb Waddleton, of Covington, Georgia, was diagnosed with a weakened heart condition called dilated cardiomyopathy shortly after his birth, Fox 5 Atlanta reported. Symptoms include coughing, dizziness, fatigue, loss of appetite and bloating. He's been hospitalized at Children's Healthcare of Atlanta since September and is on the waitlist for an organ transplant.
"Doctors say he's doing exceptionally well," Kale Waddleton, Kaleb's father, told Fox5Atlanta.com. "Best personality you'll ever meet," he said of his son. "He's got the nurses in the palms of his hands."
Despite his weakened heart, Kaleb is hitting the normal milestones for an infant his age, like teething.
The family said that they've received many requests from people to send their son holiday gifts, but they are requesting prayers for their child instead.
"Prayers are going to get him home," Kale told Fox5Atlanta.com.
They are keeping Kaleb's supporters updated on his condition through a GoFundMe account.

Click for more from Fox 5 Atlanta.