Former Marine who contracted flesh-eating bacteria on the mend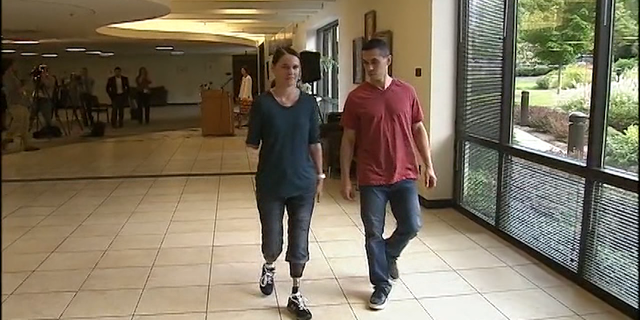 In her first public appearance since contracting a rare flesh-eating bacteria in May, former Marine Cindy Martinez, 35, told supporters she's on the way to recovery.
Martinez, of Dacula, Georgia, gained national attention in June after contracting necrotizing fasciitis, a bacteria that usually enters the body through an open wound.
The mother of two had part of her right arm amputated, as well as both of her legs below the knees, Fox 5 Atlanta reported. Martinez is now walking.
"I'm feeling great," she said in a press conference. "I don't feel sick anymore; I feel back to normal."
In May, Martinez, a former Marine and mother of two, first felt pain in her shoulder.
Doctors said Martinez had one of the fastest recoveries they've seen.
"I'm looking forward to more therapy so I can walk even better than I do now," she said.
Martinez told Fox 5 that she must remain positive because her condition is not going to change. She is expected to be released within days.
Click for more from Fox 5 Atlanta.