Elizabeth Carrion: Christmas Bread Muffins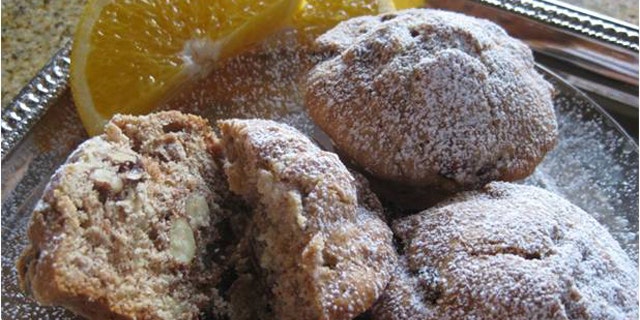 Pan de Pascua is a Chilean fruit cake served around Christmas time. In this recipe, we converted the traditional cake into muffins since it contains an abundance of dried fruits and nuts… a perfect start to your morning during this hectic holiday season.
Ingredients

1. ½ cup good rum
2. 1 tablespoon strong brewed coffee
3. 1 tablespoon vinegar
4. 1 cup nuts, finely chopped
5. ½ cup dried cherries
6. ½ cup golden raisins
7. ½ cup raisins
8. Zest of one orange
9. Zest of one lemon
10. 1 tablespoon cinnamon
11. ½ teaspoon ground cloves
12. ½ teaspoon nutmeg
13. 3 star anise
14. 1 cup butter, softened
15. ⅓ cup light brown sugar
16. 1/2 cup sugar
17. 4 eggs, at room temperature
18. 3 cups flour
19. 1 teaspoon soda
20. ¾ teaspoon salt
21. 3 teaspoons baking powder
22. ½ cup evaporated milk
23. Cooking spray
24. Powdered sugar (optional)
Directions
1. In a large bowl, mix the first seven ingredients.
2. Add orange and lemon zest. Mix again.
3. Then add your spices (cinnamon, cloves and nutmeg). Mix until well combined.
4. Finally, add the star anise and fold in gently. Cover and refrigerate for at least four hours or overnight.
5. Preheat oven to 350 degrees. In a cake mixing bowl, add melted butter and sugar.
6. Mix on low-medium speed until creamy.
7. Add egg one at a time until well incorporated.
8. In a medium bowl, sift flour, baking soda, baking powder and salt.
9. Add half the flour mixture to the cake mixing bowl. Turn on low speed and slowly add evaporated milk. Then add remaining flour mixture and mix until well-combined.
10. Remove star anise from nut and fruit mixture and fold in batter.
11. Spray muffin pan and spoon batter evenly into each cup.
12. Bake for about 25-30 minutes. Toothpick should come out clean.
13. Sprinkle with powdered sugar and enjoy with a nice cup of chai tea.
Yields 18 muffins
Elizabeth Carrion, a Dominican, co-founded Mi Cocina, a New Jersey-based catering service that also offers cooking classes, with her sister, Ana Martinez.
Follow us on twitter.com/foxnewslatino
Like us at facebook.com/foxnewslatino