Couple weds days before bride's cancer death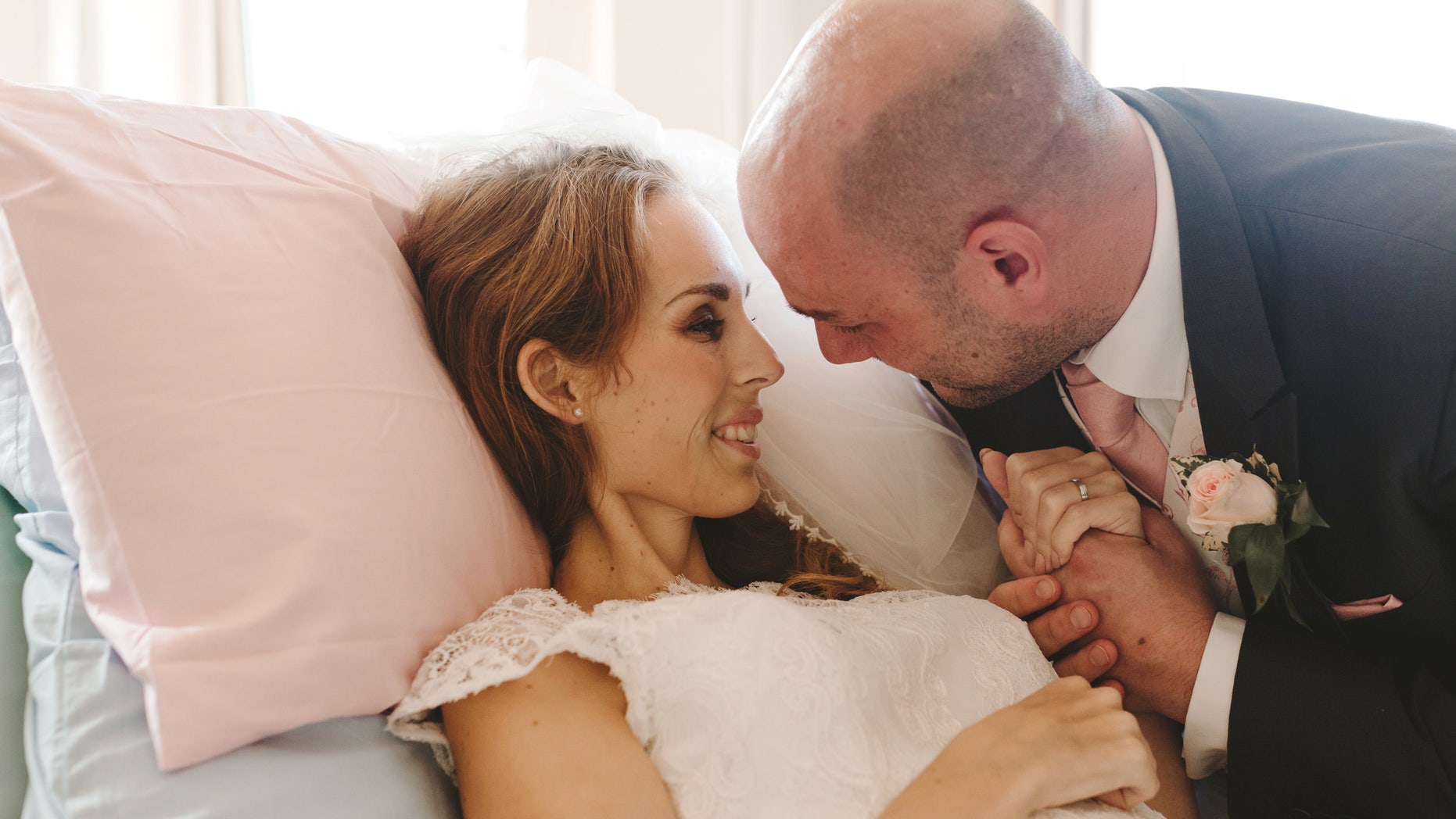 A devoted husband made his terminally ill partner's dying wish come true after they tied the knot as she lay in a hospice bed, just days before she passed away.
Heartbreaking images show newlywed couple Alec and Samantha Webster beaming with happiness moments after saying their vows during an emotional service.
Just six days later, popular teacher Sam tragically succumbed to a rare and aggressive form of cancer at the age of 33 with her new husband by her side.
TEXAS WOMAN MOVED TO HOSPICE AFTER BOTCHED SURGERY IN MEXICO, FAMILY SAYS
Alec, 38, has since spoken of his determination to pull out all the stops in order to give his sweetheart the wedding she deserved after she was told she had weeks to live.
And with the help of staff at the Severn Hospice, in Telford, Shropshire, the couple were able to say "I do" in front of 20 close friends and family.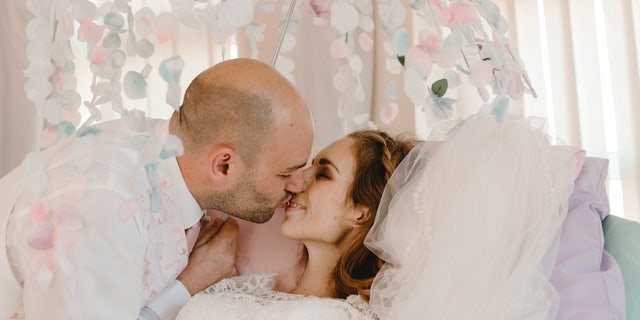 Moving photographs captured tender moments between the pair as Samantha smiled up at her new husband and shared their first kiss as man and wife. 

Their wedding day featured delicate paper decorations, rustic wedding favors and photos and chalkboards full of their life together to help set the romantic scene.
"The wedding was very emotional for us. It was the hardest day, but beautiful at the same time," Alec, a businessman, said. "Sam was so special and during her life touched the lives of many in the community. Over 300 people came to her funeral. She was amazing."
"When she was diagnosed with cancer we just had to pull out all the stops," he said. "We had already decided we were going to get married and our friend Stephanie Paterson and the hospice staff sorted everything out for us. I'm so grateful to them and to my staff for keeping things going."
"Sam was the only person who could smile no matter what was happening and she made others smile – we don't have a photo where she is not smiling," he said. "It was a wonderful day and I was glad we could make it happen as we had always wanted to get married."
"We had always wanted a family together and we were looking to have a baby," he said. "I'm heartbroken but proud we could make this happen."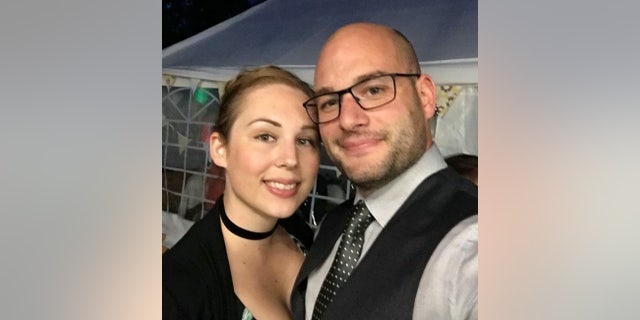 Samantha, formerly Beale, was diagnosed with aggressive cancer of the appendix in June this year after complaining of stomach pains. 

The previously "fit and healthy" math teacher spent three weeks at Royal Shrewsbury Hospital before being transferred to Christy Hospital in Manchester for specialist care.
She spent another three weeks there before being moved to the Severn Hospice for end of life care.
The pair tied the knot on the hospice ward joined by family – including their parents – on Sept. 1, before she passed away on Sept. 7.
Alec, who runs a transport company, has only now been able to speak about her death and wants to highlight the good work of the hospice.
"The cancer took her over so quickly but she was determined to enjoy our big day," Alec said. "During the initial ceremony at about 12 p.m. we just had close friends and family but even then Sam was getting a bit tired."
"Then from around 4 p.m. to 6 p.m. in the afternoon we had a buffet with an extended group of around 40 people like those from her school. I tried to mingle with the people but really just wanted to be with Sam," he said. "What they do at the hospice is phenomenal they went above and beyond, they did so much for Sam."
"They set aside an entire area of the hospice for us to use," he said. "We had all the decorations and everything we could possibly want – it made us feel that we had a proper wedding."
"We both had our lives before but it makes you feel that, if you want something, you should just do it," Alec said. "We were together for four years and we met when we attended the local gym, we both hated it but we still went."
"The thing was that Sam was always, she never smoked or did drugs and she never drank, we had water whenever we went out for a meal," he said. "She was told that she had the cancer 10 weeks before she died on Sept. 7 but the doctors said that she had probably had it growing inside her for six to eight months before that."
NEWLYWED STRUCK BY POLIO-LIKE ILLNESS AFTER COMPLAINING OF COLD ON HONEYMOON
"It was such a rare cancer that I can't really fault the doctors, it was just one of those cruel things that happen in life," he said.
Hospice staff even held a hen and stag do on the ward put up decorations and put up photos and chalkboards full of Alec and Sam's life together.
Ward sister Leeanne (corr) Morgan, said: "We feel so honored to have been welcomed into Alec and Sam's special day and we are so happy that their wish to make it happen came true."
"This really encapsulates the work we do at the hospice which is not only about clinical care — it is about ensuring that life's special moments are cherished, especially when time is limited.
"When Sam and Alec initially mentioned the idea to me, I knew I had to do all I could to make it happen," Morgan said. "All the planning and paperwork that takes others sometimes years to organize had to get done."
"Our creative therapist, Amanda, worked with Sam and Alec to create cufflinks for the big day with Sam's fingerprints on, and to make a plaster mold of their hands intertwined," she said. "Absolutely everyone rallied around to help we spoke with our chaplaincy team, the council and our clinical staff to arrange what was needed in regards to the legalities."
"We were all so pleased for them, the day was absolutely magical and full of memories for them," she said.