Chrissy Teigen's go-to healthy meal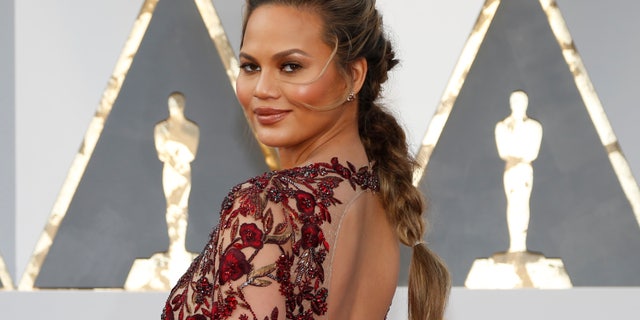 It's no secret that Chrissy Teigen has a seriously impressive kitchen game. But now the model is sharing all her best meals and tips in her new cookbook, "Cravings: Recipes for All the Food You Want to Eat" ($30, amazon.com). We couldn't resist these mouthwatering, low-carb Chicken Lettuce Wraps, and neither apparently can Chrissy: "Every single time I make this dish, I find myself burying my head in the fridge all night, scooping and scraping for every chicken bit possible with my bare hands," she wrote in her book. "Filling and healthy and freaking yummy."
RELATED: 7 Insider Secrets I Learned from Chrissy Teigen's Makeup Artist
Serves: 6
Prep time: 15 minutes
Total time: 30 minutes
Sauce
3 Tbsp. Thai sweet chili sauce
3 Tbsp. hoisin sauce
3 Tbsp. light soy sauce
2 Tbsp. Sriracha
2 Tbsp. vegetable oil
1 tsp. sesame oil
1½ Tbsp. unseasoned rice vinegar
2 Tbsp. minced garlic (about 4 cloves)
1 Tbsp. minced fresh ginger
Filling
1 lb. ground chicken
3 Tbsp. vegetable oil
8 scallions, thinly sliced, whites and greens kept separate
1 Tbsp. minced garlic (about 2 cloves)
1 Tbsp. minced fresh ginger
? pound white mushrooms, trimmed, cleaned, and finely chopped
? cup finely diced canned water chestnuts
1 small red bell pepper, finely chopped
2 heads butter lettuce, leaves separated
RELATED: 3 Easy Dishes That a Celeb Nutritionist Makes for Dinner
1. Make the sauce: In a bowl, combine the chili sauce, hoisin, soy sauce, Sriracha, vegetable oil, sesame oil, vinegar, garlic, and ginger.
2. In a bowl, mix 2 Tbsp. of the sauce into the ground chicken.
3. In a large skillet, heat 2 Tbsp. of the vegetable oil over medium-high heat. When shimmering-hot, add the chicken and cook, breaking up the meat with a wooden spoon, until browned, 5 to 6 minutes. Transfer the meat to a plate and set aside.
4. Add the remaining 1 Tbsp. oil to the skillet, then add the scallion whites, garlic, and ginger and cook, stirring, for 1 minute.
5. Add the mushrooms and cook, stirring, until they release their liquid, 3 to 4 minutes. Return the chicken to the pan, then add the water chestnuts, bell pepper, and the rest of the sauce and cook, stirring, until cooked through and the liquid has reduced and thickened slightly, 3 to 4 minutes. Stir in the scallion greens.
6. Transfer the mixture to a bowl and set out with the lettuce leaves.
RELATED: 9 Superfood Upgrades That Will Make Your Meals Even Healthier
Reprinted from Cravings: Recipes for All the Food You Want to Eat. Copyright © 2016 by Chrissy Teigen. Photographs copyright © 2016 by Aubrie Pick. Published by Clarkson Potter/Publishers, an imprint of Penguin Random House LLC.